'We're wired to go after it every year': Patrick Mahomes
SCOTTSDALE, Ariz. — The Kansas City Chiefs and general manager Brett Veach expected skepticism about their plan for the 2022 season after they traded a premier wide receiver in Tyreek Hill and assembled a post-draft depth chart that included six defensive rookies in significant positions.But they were puzzled by suggestions that after four straight AFC…
SCOTTSDALE, Ariz. — The Kansas City Chiefs and general manager Brett Veach expected skepticism about their plan for the 2022 season after they traded a premier wide receiver in Tyreek Hill and assembled a post-draft depth chart that included six defensive rookies in significant positions.
But they were puzzled by suggestions that after four straight AFC Championship Game appearances and a Super Bowl title they were in something of a rebuild and would take a step back and relinquish their spot at or near the top of the conference.
They were planning all along to make another strong championship run and perhaps return to the Super Bowl for the third time in four seasons.
"When you have Pat Mahomes, we're wired to go after it every year," Veach said.
But only one team has Patrick Mahomes at quarterback, and that team has been able to sustain success in a way most others haven't.
Since the Chiefs won the Super Bowl following the 2019 season, staying near the top of the league has been a slippery slope for championship teams. The Tampa Bay Buccaneers beat the Chiefs in Super Bowl LV to close out the 2021 season, but lost in the divisional round of the playoffs last year.
Editor's Picks
2 Related
The Los Angeles Rams went all in to win a Super Bowl by trading their recent first-round draft picks for veterans like cornerback Jalen Ramsey and quarterback Matthew Stafford. They succeeded last year by winning the Super Bowl but a lack of depth this season caused the Rams to collapse. They finished 5-12. They became the first defending champions since 2016 to miss the postseason the following year. Their 12 losses is the worst title defense in NFL history, with the 1999 Denver Broncos as the only other team to lose 10 games the next year.
The Bengals haven't won a championship but suffered a narrow loss to the Rams in last season's Super Bowl. They've also been a nemesis for the Chiefs, beating them three times over the past two seasons before losing the AFC Championship Game on a Harrison Butker field goal with three seconds left.
But their window as a contender could be closing soon as quarterback Joe Burrow, playing on the contract he signed as a rookie in 2020, is due for a massive extension this offseason. The Bengals will surely have decisions to make with their cap space.
The Chiefs, meanwhile, for the third time in four seasons are headed to the Super Bowl, where they will face the Philadelphia Eagles. Mahomes, 27, will likely win his second MVP. In their first season without their All-Pro receiver, their rookies stepped up on both sides of the ball, their free agent signings have paid off and tight end Travis Kelce had the best season of his career. They appear to not only have lengthened but also strengthened their window to win championships with Mahomes as their quarterback.
QB Patrick Mahomes and the Kansas City Chiefs are playing in their third Super Bowl in four seasons. Kevin C. Cox/Getty Images
THE CHIEFS BEGAN the 2022 offseason with two major goals. One was to fortify a defense that was aging and slow in spots, particularly the secondary. Another was to extend Hill's contract.
Then Christian Kirk, who had not topped 80 catches in any of his first four seasons with the Arizona Cardinals, signed a four-year $72 million deal with the Jacksonville Jaguars, setting the market for huge wide receivers contracts.
"It became obvious as free agency started given the way wide receiver contracts were going up that it was going to be tough to do both," Veach told ESPN.
So the Chiefs had a decision to make about which way to proceed. It's silly to suggest the Chiefs wouldn't be in the Super Bowl now if they decided to re-sign Hill. He had career highs this season for the Dolphins with 119 catches and 1,710 yards.
But signing Hill to the lucrative contract extension would have come at a cost for the Chiefs. The cap number for Mahomes jumped this season to more than $35 million, up from less than $8 million in 2021. It will rise another $11 million in 2023. Defensive linemen Chris Jones and Frank Clark are scheduled to cost the Chiefs almost $57 million against the cap next season.
Hill's contract with the Dolphins will cost them more than $31 million against their cap next season. The Chiefs projected their salary cap for years with a potential Hill extension and didn't like what they saw.
"Everyone knew what the next two or three years would look like and how many players we'd have to potentially cut and how difficult things would be," Veach said. "We would have had a lot of expensive players.
Super Bowl LVII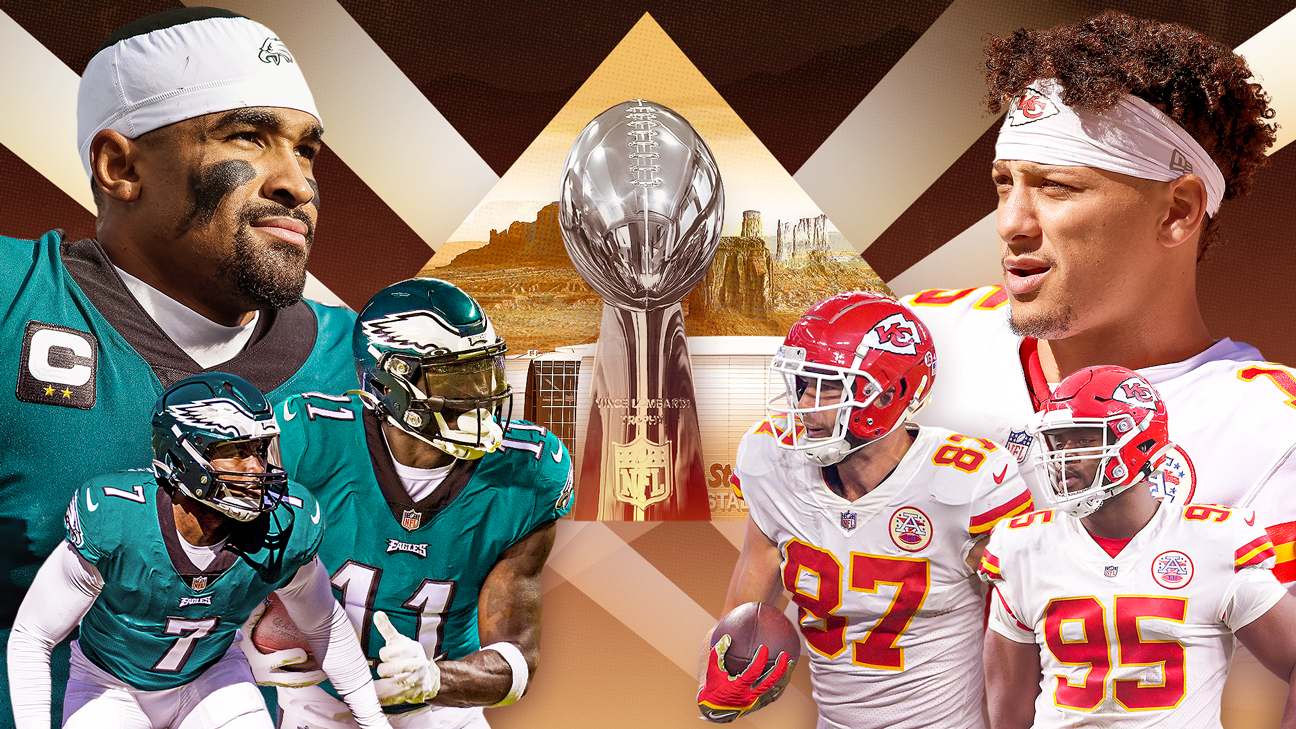 Sunday, Feb. 12 at 6:30 p.m. ET (Fox)
• First look at Chiefs-Eagles matchup »
• Making sense of NFC, AFC title games »
• Offseason guide for eliminated teams »
• Full playoff bracket and schedule »
"It's hard to be successful in this league year after year. It's hard to win games year after year. There are going to be moments where we have to step out there and do something uncomfortable. No one wanted to lose Tyreek. He's a great player. But if you're going to do something, trust the process and trust how you do things and don't be afraid to commit to change a year sooner when you have more ability to potentially make those changes work better."
The Chiefs gained some salary-cap flexibility by dealing Hill. In the free agent market they signed two receivers who would become starters, JuJu Smith-Schuster and Marquez Valdes-Scantling.
The two combined during the regular season for 120 catches and 1,620 yards, numbers similar to those that Hill gave the Dolphins. The combined salary-cap cost for the two was less than $8 million.
Valdes-Scantling had a Hill-like performance in the AFC Championship Game win over the Cincinnati Bengals with six catches, 116 yards and a touchdown.
The picks provided to the Chiefs in the Hill trade allowed them to draft Trent McDuffie, a starting cornerback, and Skyy Moore, a reserve wide receiver. They have two additional picks from the trade to use in this year's draft.
Mahomes wasn't a fan of the Hill trade initially but the Chiefs convinced him it would work in the short and long terms.
"I wanted to keep him, for sure," Mahomes said. "They had a plan for it, though. They told me the plan and we were going to get these draft picks. We were going to go out there and bring in some free agent receivers, and I think they executed on that.
"We know that to keep having success in this league we have to keep evolving, keep getting better. I always want to be successful this year, but at the same time, I'm here for the long haul. If we're going to have a long time here, I want to have a chance to win Super Bowls every single year."
The Chiefs' other offensive star, Kelce, said he had concerns after the Hill trade, including how effective the Chiefs might be on offense and what it all might mean for him.
He said those doubts disappeared quickly.
"Yes, that was a question," Kelce said. "But once I saw how hard guys were working, paying attention to details, how Pat keeps progressing as a quarterback … Right now, we're in a good routine that we just keep getting better. You could feel that from the day we started from May until now."
The Chiefs led the NFL in yards and scoring during the regular season.
Rookie Isiah Pacheco led the Chiefs in rushing with 830 yards, the most they've had from any one player since Kareem Hunt led the NFL in 2017. Chris Unger/Getty Images
THERE WAS A decidedly youthful flavor to the Chiefs this season. They were fourth in the NFL in the regular season in snaps played on offense, defense and special teams by rookies, a remarkable stat for a team that was one of two with the NFL's best record at 14-3 and wound up in the Super Bowl. Seventh-round draft pick Isiah Pacheco led the Chiefs in rushing with 830 yards, the most they've had from any one player since Kareem Hunt led the NFL in 2017.
The real impact came on defense, where the Chiefs were third in snaps played by rookies. Six rookies made significant contributions on defense this season, most notably defensive end George Karlaftis, who was third among rookies in sacks with six, and fifth in pass rush win rate at 8.1%.
Cornerback Jaylen Watson, a seventh-round pick, gave the Chiefs one of their biggest plays of the season when he returned an interception 99 yards for a touchdown in a Week 2 game against the Los Angeles Chargers. Watson was one of four rookie defensive backs to play significant time for the Chiefs. McDuffie, cornerback Josh Williams and safety Bryan Cook were the others.
"There's a little bit of growing pain still there, but there's a lot of downs there, where those guys are doing a really good job and they go unnoticed because the ball isn't getting thrown there," defensive coordinator Steve Spagnuolo said. "There's been a lot of downs where they've done a nice job with that."
Best of NFL Nation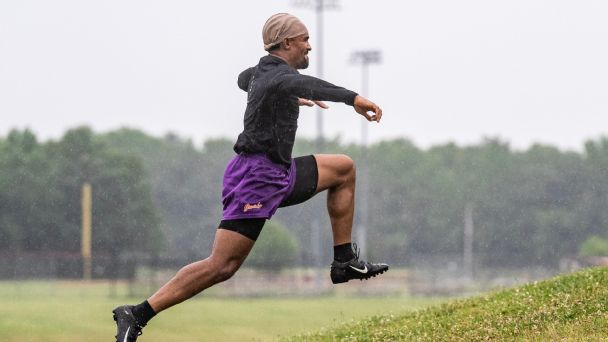 • Inside the rise of Eagles QB Jalen Hurts
• Lots of work ahead for Ryan, Texans
• Panthers' top offseason roster needs
• Jags expecting a better 2023 for Walker
• Ranking QB bargains, best to worst
The growing pains Spagnuolo referred to include the inevitable rookie mistakes. Moore fumbled three punt returns, one being a key play in a three-point loss to the Indianapolis Colts in Week 3. The Chiefs led the league in pass interference penalties with 17 in part because of so much youth in the secondary.
"Obviously there was a concern, but there was an optimism that it can be done," coach Andy Reid said of playing so many rookies. "Young guys. Who would have thought this at the beginning of the year, right? We had a lot of new faces, and for everybody to come together like that, that's satisfying as a coach."
The rookies came through in the AFC Championship Game. Watson and Williams each had an interception, one on a pass deflected by Cook. Moore's 29-yard punt return set up Butker's game-winning field goal. Karlaftis had a sack. McDuffie broke up two passes.
"The whole crew stepped up," Veach said. "That's what you need to do to win these types of games. It's a long season. You have to have tremendous depth.
"It was pretty clear early on that this would be a special group and they were certainly a big part of this journey here."
The Chiefs will face some uncertainty heading into the offseason. Smith-Schuster, wide receiver Mecole Hardman and offensive tackle Orlando Brown are among those who are potential unrestricted free agents. Jones, a Defensive Player of the Year candidate, is heading into the final season of his contract and might want an extension.
But the Chiefs will have available cap space (about $14 million according to overthecap.com), as many as 12 draft picks once the compensatory picks are distributed, and as always, a plan in place.
"Even though you may make moves and you may lose really good players, it doesn't mean there won't be a counterpunch and that we won't try to be aggressive in another way," Veach said. "What's needed to do that is draft resources and cap space. We're just going to find a new set of resources and try to be aggressive."