Tom Aspinall's future is bright and Arnold Allen proved the
Mar 19, 2022Brett OkamotoCloseESPN Staff WriterMMA columnist for ESPN.com Analyst for "MMA Live" Covered MMA for Las Vegas SunMarc RaimondiLONDON — After his submission victory in the main event of the UFC Fight Night card Saturday, Tom Aspinall told me he was pacing himself against Alexander Volkov, because of the massive respect he has for…

Mar 19, 2022
Brett Okamoto

CloseESPN Staff Writer

MMA columnist for ESPN.com
Analyst for "MMA Live"
Covered MMA for Las Vegas Sun

Marc Raimondi
LONDON — After his submission victory in the main event of the UFC Fight Night card Saturday, Tom Aspinall told me he was pacing himself against Alexander Volkov, because of the massive respect he has for Volkov's durability. And he still put Volkov away in the first round, capping a night of memorable finishes with a key victory for Aspinall's future in the heavyweight division.
UFC president Dana White always says — if a fighter wants to be a star, they've got to win. That is first and foremost. And he's right, of course. Winning is important. But a lot of guys win, not all of them become stars.
Here is why Aspinall could be. He's a finisher. He's never even seen a third round in his career. He's also well-spoken. He's likable. And while he's not a traditional trash-talker, Aspinall will make you care about his fights organically.
Lastly, fighting out of a region where you can have a built-in fan base doesn't hurt. Most of White's post-show news conference Saturday praised the English MMA scene and promised a return soon. If Aspinall keeps winning and this country embraces what he's doing, that adds up to significant star potential moving forward. — Brett Okamoto
Arnold Allen and the featherweights are the most entertaining division in the UFC
play
0:44
Dan Hooker and Arnold Allen give the London fans their money's worth in Round 1.
I've kind of felt this way for a while. Everybody always wants to pump the lightweights, and I get it. Lightweight is stacked and it's been filled with some of the biggest draws in the sport recently. Conor McGregor. Khabib Nurmagomedov. Nate Diaz. Chock-full of stars. Bantamweight is also phenomenal. In my opinion, Petr Yan is in the running for the best pound-for-pound fighter in the world.
But Saturday, the Allen-Hooker fight stood out. Allen is criminally overlooked because he's not loud on the mic and hasn't fought in high-profile spots — but he is an exceptional talent. With a nine-fight win streak, who knows? Could he be a top-three guy in the division? We just haven't had the right circumstances to find out yet. Max Holloway still looms. Look at what Calvin Kattar did in his last performance. Featherweight is the baddest division in the UFC right now. — Okamoto
play
1:01
Molly McCann wins with an incredible spinning elbow knockout and immediately runs to celebrate with Dana White and a replica title belt.
One of the best postfight memories I have is after a UFC Fight Night event in June 2019 in Greenville, South Carolina. After the fights were over, a lot of the fighters and their teams and UFC staff ended up at a rooftop bar on Main Street. McCann was among those in attendance.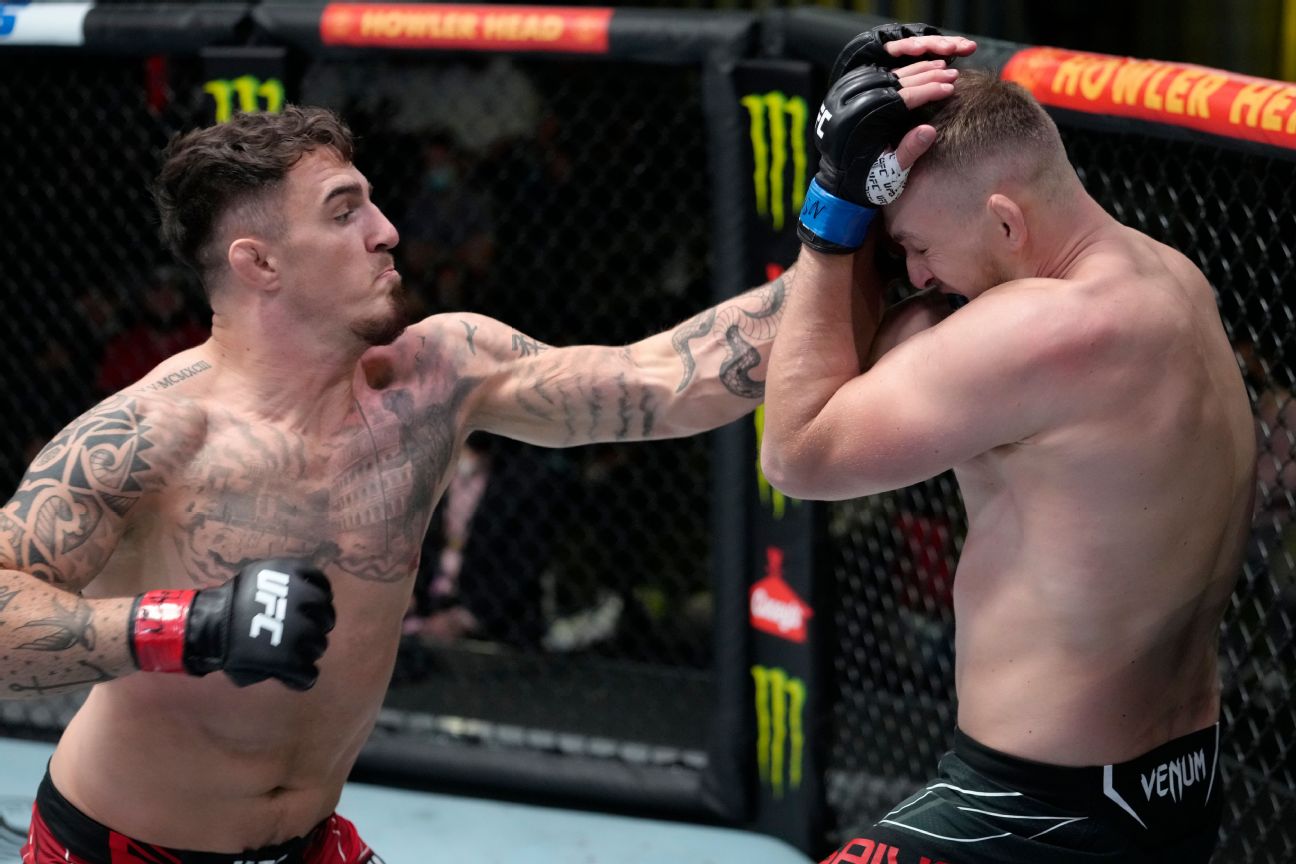 All fights from UFC Fight NIght: Volkov vs. Aspinall will be available to watch on ESPN+.
• Alexander Volkov vs. Tom Aspinall
• Paddy Pimblett vs. Kazula Vargas
• Arnold Allen vs. Dan Hooker
• Shamil Abdurakhimov vs. Sergei Pavlovich
• Gunnar Nelson vs. Takashi Sato
• Jai Herbert vs. Ilia Topuria
• Mike Grundy vs. Makwan Amirkhani
• Molly McCann vs. Luana Carolina
• Nikita Krylov vs. Paul Craig
• Muhammad Mokaev vs. Cody Durden
• Jack Shore vs. Timur Valiev
• Cory McKenna vs. Elise Reed
Watch the complete card on ESPN+
At one point in the night, a replay of the event was being shown on the screens, and McCann's fight came on. McCann started going wild, watching herself defeat Ariane Lipski by decision. The entire bar watched McCann moving with herself on screen. It was a great moment — and she delivered another one Saturday with her highlight-reel spinning elbow knockout of Luana Carolina.
The love McCann has for her craft is so evident. She arguably enjoys it more than anyone on the roster. After securing the knockout, McCann did a sprinting victory lap around the perimeter of the Octagon to the delight of the fans in the O2 in London, and finished it by hugging Dana White and, somehow, producing a UFC belt out of thin air from the crowd. It was classic Meatball Molly.
Will McCann ever reach title challenger status? Who knows if she'll ever get there. McCann has had success in the UFC, yet she has a long way to go to break into that kind of opportunity. But will Meatball Molly bring the fun every time out? That's guaranteed. — Okamoto
Ilia Topuria lives up to the hype, sets himself up for grudge match
Ilia Topuria shook off a rocky start against Jai Herbert and earned a second-round knockout to push his record to 12-0 with three straight wins to start his UFC career. Chris Unger/Zuffa LLC
Saturday wasn't the first fight Topuria took part in this week. A few days ago, Topuria and Paddy Pimblett got into a scuffle at the fighter hotel in London. Pimblett threw a bottle of hand sanitizer at Topuria before Topuria, his team and Pimblett were separated. Topuria initiated the skirmish because of negative things Pimblett said about the Republic of Georgia — where Topuria has roots — on Twitter in recent months.
Pimblett was on the UFC London card as well, but not against Topuria. Topuria was a heavy prefight favorite, matched up with Pimblett's English countryman Jai Herbert. But Topuria was also moving up to lightweight from featherweight, in hostile territory and perhaps a little preoccupied by the Pimblett situation. Those things manifested themselves in the first round, as did a left high kick from Herbert that nearly put Topuria's lights out.
But after getting tuned up for the majority of the first five minutes, something clicked in Topuria in the second round. He crushed Herbert, who perhaps got a bit greedy with his aggressive combinations, with a massive overhand right to put him to sleep. The result was a clean knockout for Topuria, who now has three straight violent KOs.
After the victory, unsurprisingly, he called out Pimblett. Topuria, who was born in Germany and lives and trains in Spain, is probably still best suited for featherweight. But who wouldn't want to see Pimblett vs. Topuria in a battle of prospects who can't stand each other? — Marc Raimondi
Jack Shore is as good as any British UFC prospect
At 16-0 with five straight wins in the UFC, Jack Shore, right, has made himself a key fighter to watch at bantamweight. Per Haljestam/USA TODAY Sports
All respect to the all-action Paddy Pimblett. Muhammad Mokaev, 21, appears to be a future champion. Tom Aspinall is just 28 years old. The United Kingdom has some excellent prospects in the UFC and beyond.
And Jack Shore is right up there with all of them.
1 Related
Shore, who is from Wales, didn't get the main event or even main card billing Saturday at UFC London, but boy did he put forth one heck of a performance. Against the uber-tough Timur Valiev, Shore survived some perilous early moments to work his excellent wrestling — and he even dropped Valiev a pair of times in the third round with his boxing.
Shore is 16-0 now with five straight UFC wins. He's just 27 years old. The UFC bantamweight division is unbelievably stacked at the top, and deep too. But when we're talking about it from here on out, let's start throwing Shore into the mix as someone to watch. He should be primed for a big step up in competition next, maybe a bout with someone like Ricky Simon or Umar Nurmagomedov.
Shore's wrestling is what helped him ascend this far, but the improvement he has made with his hands and fundamentals was notable against Valiev. Those skills can take him a long way, even in a brutally competitive division. — Raimondi