Ranking the top 25 players in the WNBA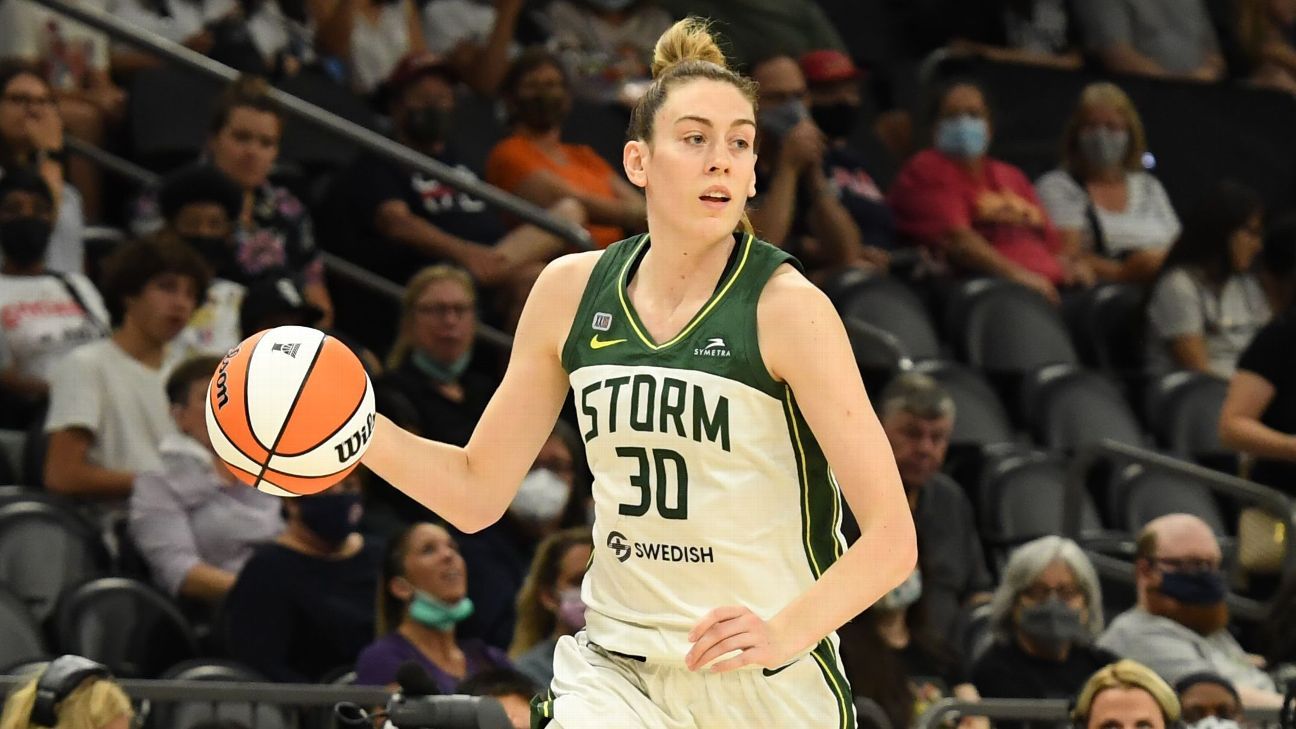 The ability to battle inside and also hit the mid-range-and-beyond jump shot has become the definition of great post play in professional basketball, and the WNBA currently has some of the best to ever do it. So it's not surprising that three league MVPs in their mid-to-late 20s with that skill set lead the way in ESPN's 2022 preseason ranking of the top 25 players in the WNBA.
But longevity is also a defining characteristic in the WNBA, and some of the league's most respected veterans are still hanging tough among the elite.
As the WNBA gets set to start its 26th season on May 6, our ranking comes with a couple of caveats. Phoenix Mercury center Brittney Griner (detained in Russia) and Minnesota Lynx forward Napheesa Collier (pregnancy) are two players who would have made the list but won't be in action to start the season, so they are left off. Also, we will re-rank players throughout the season, so players who show they have elevated their games or — like Washington Mystics forward Alysha Clark — are coming back from injuries, might make it into the top 25.
In a 12-team league, a player already has to be among the best of the best just to get a roster spot. But here are the very best.
Forward | 6-foot-4
2021 stats: 20.3 PPG, 9.6 RPG
After reestablishing herself as the best player in the world with a dominant performance in the 2020 WNBA Finals, averaging 28.3 PPG as the Storm swept the Aces for a second title in three years, Stewart was a strong contender for MVP before injury ended her 2021 campaign late in the regular season. Back healthy after offseason Achilles surgery, Stewart will be looking to pick up where she left off in the playoffs. Seattle has won the last 10 postseason games Stewart has played, as well as last year's inaugural Commissioner's Cup — where Stewart won another MVP. — Pelton
Experience the 2022 WNBA season like never before with the first full-featured fantasy league game dedicated to a professional women's sport. Get a team or start a league today!.
Sign up for free!
Forward | 6-foot-6
2021 stats: 19.4 PPG, 11.2 RPG
Fresh off sitting out the 2020 season, Jones took her game to another level in 2021, propelling the Sun to a league-best 26-6 regular-season record and earning MVP honors along the way, making her the first WNBA player to win both Most Improved Player and MVP in their career. It's not just Jones' consistent dominance that stands out, but her versatility (she's a 6-foot-6 forward/center who shoots 3s!) and ability to impact both ends of the floor make her a headache for opposing teams. Still, Jones isn't one to rest on her laurels, especially after the Sun's championship goals were foiled by red-hot Chicago in the semifinals; she will be back, now reunited with former teammate Courtney Williams, hungrier than ever to lead the Sun to a franchise-first title. — Philippou
Forward | 6-foot-4
2021 stats: 18.3 PPG, 9.3 RPG, 1.3 BPG
Wilson has a WNBA MVP award, an Olympic gold medal and a statue of herself at her alma mater, South Carolina, but is still just 25 years old. The Aces are entering a different era, with new coach Becky Hammon and new general manager Natalie Williams, but Wilson remains the foundation of the team on the court. She was crushed by the Aces' semifinal loss to Phoenix last season; Wilson wants so badly to win a title for a franchise that has not done so in any of its three incarnations in Utah, San Antonio and Las Vegas. But with Wilson as their centerpiece, the Aces remain strongly in the hunt. — Voepel
Center | 6-foot-6
2021 stats: 16.0 PPG, 10.1 RPG
The 2022 season will be the last ride for two-time WNBA champion, two-time Finals MVP and the league's all-time leading rebounder, who has said she will retire following this season. Finally healthy in 2021 after playing just seven regular-season games in 2020, Fowles, 36, has managed to play at an incredibly high level in the twilight of her career, earning the league's defensive player of the year award last season, the fourth time she has won the award. Her 64% shooting in 2021 was the second-best of her career, and she was No. 4 in the league in win shares (6.3), according to Her Hoops Stats. The Lynx might face more questions than certainties heading into the summer, but look for Minnesota to do all it can to send Fowles out with a bang. — Philippou
Guard | 5-foot-9
2021 stats: 17.7 PPG, 3.2 RPG, 5.3 APG
The move to play for Phoenix in 2020 has been very good for Diggins-Smith, who helped the Mercury make the WNBA Finals last year and also won gold with the U.S. Olympic team. Her consistency has been a hallmark of her play, even going back to her years in Tulsa and Dallas. Diggins-Smith was in the top 10 in player efficiency rating (PER) and win shares last season. She has clicked well with Mercury teammate Diana Taurasi; now both will be playing for a new coach in Vanessa Nygaard. — Voepel
2 Related
Guard | 5-foot-10
2021 stats: 17.9 PPG, 3.8 APG
Loyd is coming off the best season of her career, having set career highs in both scoring and assists to earn All-WNBA First Team honors for the first time. Tasked with more responsibility at both ends after the departure of starters Alysha Clark and Natasha Howard before last season, Loyd responded with additional playmaking and improved individual defense. The additions of Briann January and Gabby Williams should take Loyd out of that stopper role, giving her more energy for what she does best: getting buckets. — Pelton
Guard | 5-foot-8
2021 stats: 10.5 PPG, 8.6 APG
Chicago broke through to win the first title in franchise history in large part thanks to the arrival of legendary Candace Parker and growth of Finals MVP Kahleah Copper, but make no mistake: Vandersloot remains the Sky's best player. Sloot led the WNBA in assists per game for a sixth consecutive season, and she's all but certain to pass Lindsay Whalen for third all-time in assists this season if she stays healthy. With more help, Vandersloot posted historic Finals assist numbers, handing out double-digits in all four games. — Pelton
Center | 6-foot-4
2021 stats: 23.4 PPG, 9.6 RPG
Charles' two-year stint in Washington, which concluded with the former MVP coming away with the highest usage rate in the league last season (31.8%) and putting up a career-high 23.4 points per game, went pretty awry, to say the least. She opted out of the 2020 season due to health concerns, before the Mystics were hit with a slew of injuries to Elena Delle Donne, Alysha Clark and others in 2021, resulting in them missing the postseason. Now, she'll start fresh in Phoenix, her third team in four seasons, as she chases the last honor she has yet to secure across her decorated collegiate and pro career: a WNBA title. The Phoenix frontcourt will look different than expected with Griner still detained in Russia, but Charles will be surrounded by a plethora of stars who figure to make the Mercury championship contenders once more. — Philippou
Forward/center | 6-foot-4
2021 stats: 13.3 PPG, 8.4 RPG, 4.0 APG
This past year has been magical for Parker. She made the bold move as a free agent to go to her hometown of Chicago and helped bring the Sky their first WNBA championship. She and her wife welcomed a baby son, and her star continues to rise in the broadcasting world. Parker turned 36 on April 19 and continues to hone her craft on court. Former teammate Lisa Leslie said she thought Parker's leadership was the best it has ever been in 2021. That's something Parker brings again to the Sky as they seek to repeat their title. — Voepel
Guard | 5-foot-8
2021 stats: 18.7 PPG, 3.3 APG
Ogunbowale has finished in the top five in scoring in each of her first three seasons in the league, including last year, when she earned her first All-Star selection and took home All-Star Game MVP following a 26-point outing that helped Team WNBA best the U.S. Olympic team. Though she recorded a career-low 2-point field goal percentage in 2021 (38.8%), she took and made more 3s than any other time of her career (37.6%). The Wings broke through to make their first playoff appearance since Ogunbowale was drafted, losing to the eventual champion Sky, but expectations remain high for the fourth-year star after she signed a supermax deal that will keep her in Dallas through 2025. — Philippou
Center | 6-foot-8
2021 stats: 14.2 PPG, 8.2 RPG, 1.6 BPG
Eleven years after being drafted into the WNBA as a 19-year-old, Cambage is at last playing for the franchise she said she always wanted to be with. The Sparks had a rare playoff miss last season, so obtaining an elite center like Cambage was a key acquisition. Cambage says she hopes to be more of an inside-outside scoring threat for Los Angeles, which is fine. But her strength and size on the low block make her such a big weapon there both offensively and defensively. — Voepel
Forward/guard | 6-foot-5
2021 stats: 41 points, 13 rebounds in 52 minutes
It seems like an eternity ago that the two-time MVP won her first WNBA title in 2019 with the Mystics, the same year she became the first WNBA player to join the 50-40-90 club. Since then, Delle Donne has played in just three WNBA games, opting out of the 2020 "bubble" season due to health concerns, while lingering back issues precluded her full return in 2021. An offseason that she has painted as restorative and transformative, though, has left Delle Donne feeling the best she has in years and the basketball world eager for her to retake the floor. There's little doubt that if/when healthy, she remains one of the best players in the world. — Philippou
Forward/guard | 6-foot-4
2021 stats: 15.2 PPG, 6.4 RPG
Like some others on this list, Bonner has more seasons in the league behind her rather than in front of her, but since joining the Sun in 2020, she has managed to be a stabilizing force as the team navigated unexpected absences of key pieces in back-to-back seasons. Last year, that entailed her being the second scoring option behind Jonquel Jones, but Bonner also did a little bit of everything else, coming in third on the team in rebounding, second in assists and at times being a really disruptive defender. There should be less weight on her shoulders with a healthy Alyssa Thomas and Courtney Williams incorporated into the fold in 2022, but Bonner will nonetheless play a big part in determining how far the Sun go this summer. — Philippou
Forward | 6-foot-2
2021 stats: 14.5 PPG, 6.5 RPG, 2.7 APG
It was a challenging 2021 for Ogwumike, who dealt with a knee injury that limited her to 18 games, an enormous disappointment being left off the Olympic team despite her extensive USA Basketball history, and the Sparks' failure to make the playoffs. That came on the heels of a demanding 2020 season in the bubble, during which her role as president of the union's executive committee was a full-time job on top of playing. Ogwumike, who turns 32 in July, seems due a less stress-filled and more joyful 2022 season. — Voepel
Forward | 6-foot-2
2021 stats: 5.5 PPG, 5.0 RPG, 2.0 APG
Her numbers from last year are deceiving, because she missed most of the season after having surgery in January 2021 to repair a torn Achilles tendon. That Thomas made it back at all to play in 2021 is a testament to her work ethic. She played in two regular-season games and four playoff games for the Sun, who lost in the semifinals to Chicago. Her 15.5 PPG, 9.0 RPG and 4.8 APG averages in 2020 more accurately show Thomas' ability, and coach Curt Miller also considers her one of the league's best defensive players. A fully healthy Thomas likely makes the Sun even more dangerous this season than last, when they had the league's best record at 26-6. — Voepel
Guard | 5-foot-9
2021 stats: 10.0 PPG, 5.3 APG
Storm fans chanting "One more year" to convince Bird to return for a 19th season in Seattle wasn't just about the memories. At age 41, Bird remains an indispensable player. With former backup Jordin Canada slumping, Bird averaged her most MPG (27.7) since 2017 and did not miss a game due to injury. (She sat out two after the Olympics to rest.) Bird's 6.9 assists per 36 minutes ranked sixth in the league, and just three players averaged more 3-pointers per 36 (2.9 on 42% accuracy) in at least 400 minutes played. — Pelton
Guard | 5-foot-11
2021 stats: 11.1 PPG, 2.9 RPG, 5.9 APG
Gray left Los Angeles as a free agent last season and fit in well with the Aces, who benefited from her skills and mentality as a true point guard. It will be interesting to see how she connects with new Las Vegas coach Becky Hammon, who like Gray really understood as a player how to maximize the talent around her. Gray tied her career high in assist average last season, and she won an Olympic gold medal with the U.S. team. — Voepel
Forward | 6-foot-2
2021 stats: 16.2 PPG, 7.2 RPG, 1.7 APG
A knee injury limited Howard to just 13 regular-season games and one playoff game last season, after being obtained by the Liberty via trade in February 2021. When healthy, Howard was a very effective threat for New York, and is expected to be a cornerstone for the Liberty going forward under new coach Sandy Brondello. Howard is looking forward to paring with 6-10 center Han Xu, with whom she has played overseas, and helping the Liberty become a better defensive team. — Voepel
Forward | 6-foot-3
2021 stats: 14.7 PPG, 7.3 RPG
Jones followed up a breakout 2020 in which she stepped up for the Jonquel Jones-less Sun in the bubble with a similarly impressive 2021 campaign, where she was once again asked to do more with Alyssa Thomas out following an Achilles tear (and Jonquel abroad for part of the summer due to EuroBasket). Brionna's 14.7 points per game, which she achieved behind a 57.1% shooting clip, marked a career high, and her consistency on the glass helped the Sun dominate the boards all season long. Her 6.5 win shares were third-most in the league, helping her secure her first All-Star bid and the Most Improved Player award. — Philippou

Guard | 5-foot-8
2021 stats: 16.2 PPG, 2.2 3PM
An All-Star for the first time in her fourth season, Atkins continued the transformation from valuable role player into key offensive cog, boosting her usage rate to a career-high 25% as the Mystics' second-leading scorer. Atkins maintained an above-average true shooting percentage by virtue of volume 3-point shooting (her 6.1 3-point attempts per 36 ranked fourth in the league) and 83% accuracy at the foul line. She also earned All-Defensive Second Team honors for a fourth consecutive season. Given Atkins won't turn 26 until the end of July, there might be further development ahead. — Pelton
Forward | 6-foot-3
2021 stats: 11.6 PPG, 6.7 RPG
Although Hamby lost out on the Sixth Player Award to teammate Kelsey Plum after winning in both 2019 and 2020, she remained as productive as ever in a reserve role. In fact, Hamby's 17.1 points per 36 minutes were her most since 2018, when she saw less playing time. Hamby was rewarded with a first All-Star appearance in front of home fans in Las Vegas. With Liz Cambage's departure, Hamby could be in line for an even larger role this season. — Pelton
Guard/forward | 6-foot-1
2021 stats: 14.4 PPG, 4.2 RPG, 1.8 APG
The past two seasons, Copper has really blossomed as a pro player. Then in the 2021 postseason, she took the next step as a go-to presence for the Sky during their title run. Copper averaged 17.7 points, shooting 52% from the field, and 5.3 rebounds in Chicago's 10 playoff games, and won the WNBA Finals MVP award. — Voepel
Guard | 6-foot-0
2021 stats: 15.2 PPG, 4.9 APG in 16 games
Injuries have significantly limited Taurasi two of the last three seasons, including in 2021, where she dealt with a fractured sternum and sprained ankle while also navigating national team duties for the Tokyo Olympics. But coming off Phoenix's somewhat surprising Finals run, the WNBA's all-time leading scorer is back for more in 2022, her 18th season in the league, with her 40th birthday in June fast approaching and no plans on retiring anytime soon. With a new head coach and a slew of fresh weapons in tow, Taurasi will look to bounce back in 2022 not just with greater luck on the health front, but also with better productivity after recording career lows (for seasons where she has appeared in at least half the regular-season games) in scoring (15.2 PPG) and field goal percentage (36.5%). — Philippou
Forward | 6-foot-4
2021 stats: DNP
After a one-year absence due to the Olympics, Meesseman returns to the WNBA in a new spot after signing with the Sky as a free agent. The move reunites Meesseman with Belgium national teammate Julie Allemand, with a third Belgian star (Ann Wauters) on the Chicago coaching staff. Given the Sky's depth, Meesseman might find herself in a similar situation to 2019, when she came off the bench most of the season but typically finished games — winning Finals MVP honors in the process. — Pelton
Guard | 5-foot-11
2021 stats: 13.7 PPG, 1.9 3PM
A change of scenery helped McBride improve her scoring average to the highest point since 2018 with the Las Vegas Aces. McBride was more efficient than ever after signing with Minnesota as a free agent, making a career-best 48.5% of her 2-point attempts and 38% of her long-range attempts. The result was a true shooting percentage (.586) that ranked 12th in the league among players who average double-figure scoring. With Napheesa Collier out of the lineup, McBride's shot creation might be even more important for the 2022 Lynx. — Pelton