Nine years after the Boston Marathon bombing, Devin Pao runs
Devin Pao calls at the appointed time, her hair still damp, sipping an energy drink. It's three weeks before the Boston Marathon, and she has just finished the longest run of her life — 24 miles on the dot, a hilly route she covered in 4 hours, 16 minutes at altitude in her home city…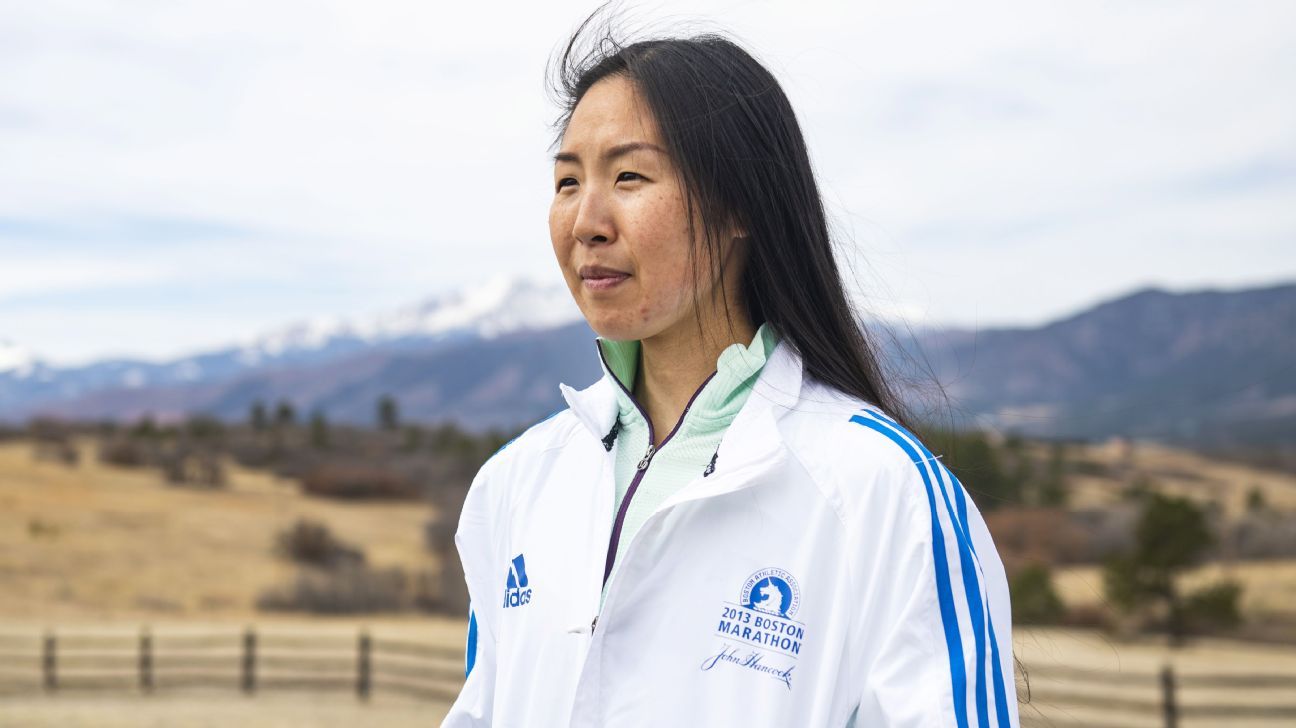 Devin Pao calls at the appointed time, her hair still damp, sipping an energy drink. It's three weeks before the Boston Marathon, and she has just finished the longest run of her life — 24 miles on the dot, a hilly route she covered in 4 hours, 16 minutes at altitude in her home city of Colorado Springs. She pushed herself several miles farther than the workout laid out in the training program she's been following.
"From everything I hear, the last five miles are really painful, so I wanted to get as close to the full distance as I could," she says. "I feel like I'm ready for Heartbreak Hill. The competitive part of me wants to finish in four hours."
Yet nine years after the tragedy that brought her sudden, unwanted attention, she understands there are limits to how prepared she can be. She will find herself in unknown territory somewhere on the course and count on training to get her through it.
On April 15, 2013, Devin ran the wrong way across the marathon finish line on Boylston Street pushing an empty wheelchair. She was conditioned to move toward trouble. She knew what she had heard — two explosions, people screaming in panic and pain — but not what she would see or what she would be called on to do as an undergraduate student volunteer.
She ran back in the opposite direction moments later pushing the same chair, bearing a gravely injured man named Jeff Bauman. An EMT, Paul Mitchell, and a Good Samaritan named Carlos Arredondo helped her ferry Bauman to the medical tent on Copley Square. Bauman lost his lower legs in the bombing, but Devin's quick response helped save his life.
Devin will be running the marathon with her father Steve and raising money for the hospital that worked with Jeff Bauman, the man she helped save on that tragic day. Kelsey Brunner for ESPN
Devin would pay an emotional price for absorbing the aftermath of a violent attack that killed three people and left more than 260 wounded. Photographs of Bauman's rescue, instantly transmitted worldwide, thrust her into the spotlight before she had time to process what had happened. She turned inward, took time off from school, sought counseling and avoided media requests, remaining officially unidentified in the famous photos for several months.
I was covering the 2013 race for ESPN, and after the bombs went off at 2:49 p.m., I found myself locked down for several hours at a hotel a block from the finish line. The enormity of the suffering around me, coupled with my inability to leave the building and do my job, froze me with grief and anxiety.
In the days that followed, I went on a quest to document the experiences of the athletic trainers who had become first responders at the marathon. That reporting led me to Devin, who was introduced to me by people she trusted when she was ready to tell her story.
She hasn't stopped moving since, closing out her career as a world-class synchronized skater and broadening her professional ambitions. This Patriots' Day, Devin plans to cross the Boston Marathon finish line again for the best of reasons.
"I don't know if there will ever be closure, and I don't think just going and running will mean that that's closure for me," she says. "I think it's a way of celebrating community, coming together. I don't think it means that this is it, I'm saying goodbye."
Now a physician assistant for an orthopedic surgeon, Devin is running with her father Steve and raising pledges for an entity that has special meaning for her. "I chose to run for Spaulding Rehabilitation Hospital's Race for Rehab team as Spaulding was instrumental in Jeff Bauman's rehab following the horrific event that has tied us together in an iconic photo," she wrote on her fundraising page.
Devin's 21st birthday fell shortly after the bombing. She's done a couple of half-marathons and wanted to take on the full distance before she turned 30. "If I talk about it, put it out in the universe, maybe it'll actually happen," she says. She has been training with her husband, Chris, and their German shepherd, Kiira, but logged most of the miles alone. Her commitment awes me, just as it did on the worst of days.
Photographs of Jeff Bauman's rescue, transmitted worldwide, thrust Devin, right, into the spotlight before she had time to process what had happened. AP Photo/Charles Krupa
I promised Devin two things in 2013.
The first felt obvious. She was still early in recovery from trauma, and I felt a huge responsibility not to set her back. I told her I would only ask her to recount her experience at the marathon once. In the meantime, I tried to understand what had led her to the moment she grabbed the wheelchair. I asked Devin about her family, her studies and her life as an athlete. I watched her practice with her synchro team, the Haydenettes, and talked to her parents, professors and fellow students.
When it came time to film Devin's interview, ESPN producer Lindsay Rovegno and I agreed she would speak directly to the camera. It was Devin's story, not mine, and the last thing the world needed was cutaway shots of my reactions.
What I didn't realize until I walked into the darkened room was that I wouldn't be able to make eye contact with Devin. She was going to walk us through that day while staring into the blank face of a lens. I tried sitting behind the camera manned by producer Steven Guyot, but Devin's gaze kept flickering to mine when she answered my questions. I panicked. After months of building our relationship, I wouldn't be able to see her expression and pick up cues to tell me if she was OK.
Just listen, I thought. Pretend you're on the phone. You'll know how she is by the sound of her voice. I put my head down and fixed my eyes on my notebook. Devin kept her head high and bravely, brilliantly told her story.
The second promise I made to Devin came after the digital story and video were published in October of that year.
I had no idea what I was about to say until I blurted it out.
"Our relationship isn't going to end just because the story ran," I told her. "We're going to stay in touch. I'm going to be in your life."
Journalists have to leave behind most people they write about, even those who invest the most faith in us and share the most intense of times. Our duty usually calls for detachment over affection, and the cumulative volume of words and diverging circumstances over the years make it impossible to carry everyone with us.
In the moment, I didn't understand exactly why I wanted to make an exception for Devin. I felt protective of her and accountable to her, but she had family, friends and mentors looking out for her; she didn't need another guardian angel.
We returned to Boston several times in the ensuing years, me as a reporter, her as a medical team volunteer. I traveled to see her compete one last time with the Haydenettes at the world championships. She took a job with U.S. Figure Skating that brought us together at events I covered. We made time for visits in Lake Placid and Salt Lake City and San Jose before she started a two-year physician assistant degree at Texas Tech University.
In 2013, Devin was an undergraduate student volunteer at the Boston Marathon. She is now a physician assistant for an orthopedic surgeon. Kelsey Brunner for ESPN
There were stretches where she doubted whether she should have left the realm of the familiar. Moving to West Texas by herself and enduring lengthy separations from Chris was challenging. The pandemic interrupted her program and prevented me from seeing her graduate in person. I watched on Zoom as she walked across the stage and slipped on the ceremonial white coat.
When I reached out to her to see if she'd be willing to talk about running the marathon this year, she took a few days to think about it, then responded by text: "I would love to collaborate with you for one more story!" The word "collaborate" was striking, a nod to our origin story and the experience we shared from opposite sides of a two-way mirror.
I was in a safe place on that terrible day and Devin was not. Fear swamped me while she reacted fearlessly. I was trapped, working blind, on an afternoon where she saw more than anyone should be asked to see.
Telling Devin's story gave me purpose in a situation unlike any other I had encountered in my career, where I'd felt helpless in every way. I couldn't have imagined just closing my laptop and going on to the next project. So I didn't.
Kelsey Brunner for ESPN
Devin has trained for the marathon with her husband Chris and their German Shepherd Kiira. Kelsey Brunner for ESPN
She still moves toward trouble, but now Devin is qualified to see patients, make diagnoses, write treatment plans, prescribe medication. She assists in joint reconstruction surgeries and revels in the success stories of people who regain strength and range of motion.
The famous photograph no longer pulls her back into a place she doesn't want to be. It has remained the same while she has grown.
"I look at myself now, and I'm like, 'I look really young,'" Devin says. "I definitely see myself as a student, nervous, not sure what I was doing but very intently focused on getting from point A to point B, not causing Jeff a lot of pain. A very determined face. I've got someone's life on my hands."
She and Jeff met again in a completely unplanned encounter at the finish line in 2016, and the fact that it came about organically made her happy. He was her patient, however briefly. "I don't ever feel like we have to force any of that," she says.
It's one of so many connections that bind her to this city, this course, the race bib she'll be wearing. Her first post-graduate position in healthcare was at one of Spaulding's satellite facilities. She'll see her BU professors and classmates, some of whom still exchange texts to check in on April 15.
And how does Devin picture herself on race day in 2022, willing herself down that same city block? She searches for the right word, and finds it. Acknowledgement. She has acknowledged what happened, how it tested her and how it ultimately pushed her to think bigger and go further, to keep solving the mystery of how she would respond.
"Granted, I was only a student at the time," she says. "But I wheeled him into the medical tent, and I felt like, that's all I did? I always wanted to do more.
"I think it definitely prepared me to see I can handle even the most unexpected, traumatizing things that someone can potentially see. I'm glad I'm one of those who could move forward and help instead of having to retreat."
It's a sign of how far Devin has come that her marathon fundraising page features the image she once wished she could erase from public view. In being seen, she represented everyone who acted selflessly that day, and I've been privileged to watch her reach a place of acceptance with that. "It's definitely not the first thing I bring up when I meet people," she says. "If it comes up, it comes up. I'm OK talking about it."
She's often told me that she was just carrying out her assignment at the marathon. I was trying to do the same, and I probably will never get over how our paths eventually crossed and enabled me to keep working on what I couldn't finish right away.
I'll be waiting for her Monday on Boylston Street.