NBA playoffs fact or fiction: The biggest storylines of Round
The first round of the playoffs is barely a week old and has already packed in plenty of intrigue. The Boston Celtics became the first team to advance to the second round when they completed a sweep of the Brooklyn Nets on Monday.If the defending champion Milwaukee Bucks win Game 5 against the Chicago Bulls…
The first round of the playoffs is barely a week old and has already packed in plenty of intrigue. The Boston Celtics became the first team to advance to the second round when they completed a sweep of the Brooklyn Nets on Monday.
If the defending champion Milwaukee Bucks win Game 5 against the Chicago Bulls on Wednesday, they will punch their ticket for a second-round meeting with the Celtics.
Elsewhere in the East, MVP candidate Joel Embiid battled through a thumb injury but couldn't lead the Philadelphia 76ers past the short-handed Toronto Raptors on Monday night. The series heads back to Toronto on Thursday, where the Raptors will try to send the series to a Game 7.
Embiid's former teammate, Jimmy Butler, and the Miami Heat have a chance to close out the Atlanta Hawks on Tuesday night and set up a potential second-round series with Philadelphia.
The Western Conference series are quite a bit closer, as the No. 1 Phoenix Suns head back home for Tuesday's Game 5 tied with the New Orleans Pelicans at 2-2. Most Improved Player Ja Morant and the No. 2 Memphis Grizzlies head home for Tuesday's Game 5 tied up at two games apiece with the Minnesota Timberwolves.
The No. 3 Golden State Warriors, meanwhile, will look to send the Denver Nuggets home Wednesday after nearly pulling off a sweep Sunday.
Are Stephen Curry and the Warriors back? Are the Celtics the favorites in the East? Have injuries dashed the chances of a Suns-Bucks Finals rematch? Our insiders break down the biggest questions from the first round.
MORE: Complete first-round matchups, schedules and news
play
2:23
Stephen A. raves about what the Warriors have to offer and how they are the team that stands the biggest chance against the Suns.
1. Fact or fiction? The Warriors are the title contenders we thought they were in the fall.
Kevin Pelton: Fact. I'm curious to see how Golden State's small lineups will hold up defensively against teams with more effective perimeter shot creators than the limited Denver Nuggets, but the Warriors have played at a high level whenever Curry and Draymond Green have both been on the court. They are right now at the most important time of the season.
Jamal Collier: Fact. Curry is back. Green looks like the best defender in the league. They've got a new death lineup. And their path to the conference finals will put them up against a young team getting to the second round for the first time. Golden State looks like it's putting it all together at the right time.
Tim MacMahon: Fact, as long as Curry and Green stay healthy. That didn't happen very often during the regular season, but Golden State outscored opponents by 14.8 points per 100 possessions with Curry and Green on the court together. That ranked second in net rating among duos who played at least 750 minutes, behind only Curry and his baby Splash Brother, Jordan Poole. Curry and Green together in these playoffs so far? A cool plus-29.3 net rating.
Andrew Lopez: Fact. It helps that Curry might be the best sixth man in the history of the league, but the Warriors just needed to get healthy at the right time. Curry looks like Curry. Klay Thompson looks like Klay Thompson. Green is doing Green things. Oh, and Poole is averaging 24.3 points a game.
Israel Gutierrez: Fact, although, probably a bit different than the way we thought they were in the fall. Back then, the idea was Andrew Wiggins would play a huge role, Thompson wouldn't have to be his old self and James Wiseman would eventually provide some much needed rim protection and easy buckets inside. Now, it's Poole's offense that figures to be more crucial than almost anything Wiggins provides, Thompson might very well need to have some classic Thompson games and the 5-spot is going to be ol' reliable, Green. But this recipe still has championship flavor.
2. Fact or fiction? The Celtics are the favorites to win the East
Gutierrez: Fact, especially now that Robert Williams III can give the Celtics spot minutes at the very least. It's not just the defense they've played since January, it's the comfort level with which Jayson Tatum and Jaylen Brown find their shots, while working within an offense to do so. The confidence Tatum is playing with — and you can assume it'll only grow after dominating Kevin Durant for a series — appears to be at the greatest level of his career. It will be interesting to see just how much Giannis Antetokounmpo can affect that confidence in a second-round matchup.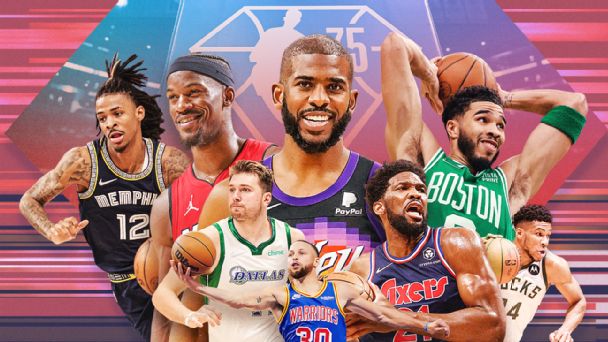 The NBA75 celebration continues with the NBA playoffs, which runs through June, when the league will crown a champion for its milestone season.
• A star guard has arrived in Dallas
• What to know about every playoff team
• Inside the world of NBA ref whisperers
• NBA matchups: First-round results
Pelton: Fact. The path that looked so difficult for Boston entering the postseason hasn't materialized. After surviving a Game 1 scare, the Celtics swept the Nets. And while the Bucks have still dominated the Bulls since Khris Middleton's injury, his absence would loom much larger against Boston. Additionally, Williams' return means he should work off any rust before that series starts.
MacMahon: Fact. Others in the East didn't want any part of the Nets in the first round and took action — or inaction — in the regular season's final week to avoid them. The Celtics seized the second seed and certainly don't regret it now. Boston has the NBA's best defense and a pair of two-way go-to guys, Tatum and Brown, who have proven playoff chops.
Lopez: Fiction. The defending champions are still around, so Milwaukee still has the claim to being the favorite out East. But no one has been as impressive in the first round as the Celtics have been. They are proving they have the NBA's top defense this season.
Collier: Fiction. I'll admit to being a Celtics skeptic up until the very moment this first-round series began, but watching the way they have defended Kevin Durant and Kyrie Irving has me convinced. The Bucks, however, look the part as defending champs, and I'd still lean on them as a slight favorite, assuming they can get Middleton back on the court early in the next round. We're in for some 86-82 final scores in that series, aren't we?
James Harden (left), Joel Embiid (center) and Tyrese Maxey (right) head back to Toronto on Thursday after failing to close out Monday's Game 5. Matt Slocum/AP Photo
3. Fact or fiction? The 76ers have the best big three in the playoffs
MacMahon: Fiction. Give me Golden State's trio of Curry, Green and pick between Poole and Thompson. Or Milwaukee's big three, if and when Middleton comes back from his knee injury. Embiid is a dominant force and deserving MVP candidate, but his thumb injury is concerning. James Harden is no longer an All-NBA player, and he didn't have the most impressive playoff track record even when he was.
Lopez: Fiction. The Warriors are still in the playoffs and whether you want to put Poole or Green as the third man, Curry and Thompson still lead the best big three in the playoffs. Philadelphia might not even have the best big three in the East: Antetokounmpo, Jrue Holiday and a healthy Middleton could have that crown.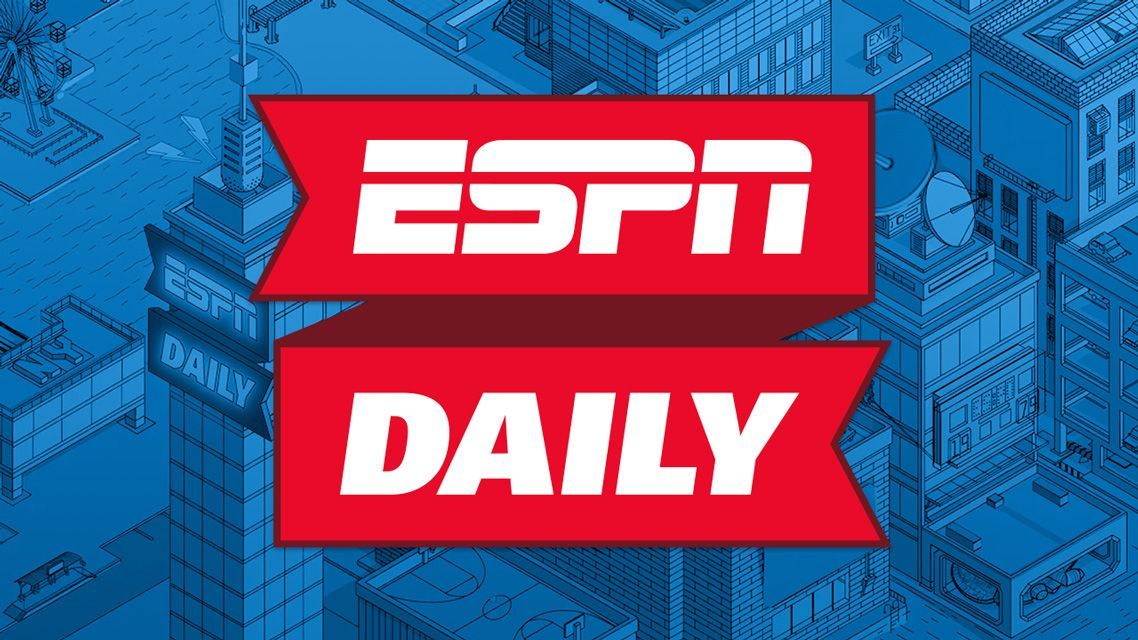 Monday through Friday, host Pablo Torre brings you an inside look at the most interesting stories at ESPN, as told by the top reporters and insiders on the planet. Listen
Pelton: Fiction. Perhaps that's true so far in this series, but the Sixers will face teams better equipped to defend their perimeter players than the short-handed Raptors as early as the second round against the Miami Heat. It's worth noting Philadelphia might look better if we talk top-four players, and Tobias Harris continues to fill his role on this version of the Sixers as he has so far in the playoffs at both ends.
Gutierrez: Fiction. And that's not even because of Embiid's finger. It's because Harden has effectively been a role-playing point guard. Tyrese Maxey is perfect as a third wheel, but when you're relying on his scoring too much, it's not the right formula. Golden State has a better trio. So does Phoenix, should Devin Booker get healthy.
Collier: Fiction, as I'm curious to see what happens when a team tries to force Harden to do more scoring. Until then, I'll ride with the Warriors (any combo of Curry, Thompson, Green or Poole) and a fully healthy Bucks big three. Maxey definitely puts Philly in the discussion, though.
4. Fact or fiction? Injuries will prevent the Bucks and Suns from playing in a Finals rematch
Pelton: More fact than fiction. I would've picked Milwaukee and Phoenix before the playoffs, and that has changed in the wake of injuries to Booker and Middleton. That said, it's at least as much a product of other teams (Boston and Golden State) getting healthy as it is those teams' own issues. I would favor the full-strength Celtics over the full-strength Bucks.
2 Related
Collier: Fiction. I hope Booker and Middleton will both return at some point in the playoffs, but the reason I don't think we're headed for a Finals rematch has more to do with how good the other teams in the conference are, especially Golden State and Boston.
MacMahon: Fiction. I'm trying to be an optimist here. My hope is that Booker and Middleton are back for at least most of the conference semifinals. If that's the case, I'd argue we can't blame their injuries if their teams get eliminated. I did pick a Suns-Bucks rematch with Phoenix winning the Finals. I've backed off that primarily because Boston looks so strong.
Lopez: Fiction. If the Suns can get by the Pelicans, Booker should be back for a conference semifinals series to help Phoenix's efforts after that. But New Orleans won't go away without a fight. If Milwaukee can pick up one more win against Chicago, it also could get Middleton back in the conference semifinals. The road to a Finals rematch certainly got tougher for both teams, but a path still remains.
Gutierrez: Fact. Against a Celtics defense in the next round (probably), the Bucks are going to need as much shooting and playmaking as possible, and missing Middleton would hurt. And with Booker's hamstring injury, there's always a chance it could recur, should he even return. It just doesn't appear in the cards, which makes sense given how much basketball these two teams have played the past two seasons.
5. Fact or fiction? The Heat are getting slept on
Gutierrez: Fiction. There's enough to be concerned about Miami, most notably late-game offense. And the Heat, too, have some guys playing with fire. Kyle Lowry is experiencing his own hamstring issue, Bam Adebayo is playing with a bothersome quadriceps muscle, and we've seen Butler miss games because of ankle injuries this season. The defense this team is playing is certainly championship level, though.
Pelton: Fact, but that's a good thing. It's the first round of the playoffs, and there are eight series going on. The reason we talk about top seeds is because they appear to be in danger of an upset. Miami isn't.
Collier: Fact. I've gone back and forth with how optimistic I am on the Heat all year, and Lowry's hamstring gives me some caution as to whether this team can remain healthy for a long playoff run, but it's hard not to like the way Miami has locked down Trae Young defensively. Butler has found his touch offensively, and I could see Miami making a run that validates its achievements in the bubble. Plus, Butler going back to Philly for a playoff series is going to be fun.
Lopez: Fact. Miami came out of the fight for the No. 1 spot in the Eastern Conference standings on top. Butler is playing his best basketball of the season and is arguably the MVP of the playoffs so far. Butler is averaging over 30 points a game in the playoffs, and the Heat don't have anyone else over 14 points a game, but that hasn't been necessary because of the balance their roster provides.
MacMahon: Fact. It seems like the only time we've talked a lot about the Heat is when Butler and coach Erik Spoelstra did their Royal Rumble impersonation on the bench. Miami is a No. 1 seed that made a recent Finals run and added a pair of champions (Lowry and P.J. Tucker) to the mix since then. Ask Young if the Heat look like a legitimate contender.