'He's a hero of mine': Inside CM Punk's transformation into
CM PUNK WAS backstage chatting with Will Hobbs at an All Elite Wrestling (AEW) television show last September. That evening, the two were scheduled to have a match against one another at a sold-out Arthur Ashe Stadium in Flushing, New York.
A few hours after their conversation, the building that hosts the tennis US Open would be filled with 20,177 people, the largest crowd yet for the upstart AEW promotion, which has been billed as an alternative to powerhouse WWE.
The nerves of Hobbs were evident across his barrel-chested, 270-pound frame. This was by far the most fans he had ever performed in front of. Hobbs signed with AEW during the pandemic when there were no fans in attendance, and it was only Punk's second match since returning to pro wrestling after a seven-year layoff.
Punk, one of the biggest wrestling stars of the last two decades, opened their discussion about how the match would be laid out with something surprising. Punk said he knew Hobbs' mother had died just about a month before and the match would be in her honor.
"First thing he said, don't worry about anybody else," Hobbs told ESPN. "'Your mom is in the crowd. Let's put the match on for her.' That made me feel so much better, so much more comfortable with him in the ring. He just knew what that night meant for me."
2 Related
Punk beat Hobbs last Sept. 22 in a match that received solid reviews from fans and critics. It was right at the beginning of Punk's comeback after he had all but sworn off pro wrestling after a messy falling out with WWE. But for Punk, it represented precisely why he had returned to the ring — and what he believes the industry should be all about in the first place.
On Sunday, CM Punk will challenge for the AEW World Championship for the first time against current titleholder Adam "Hangman" Page in the main event of the Double or Nothing pay-per-view card in Las Vegas. The buzz about Punk's first nine months in AEW and his rise toward being presented as the promotion's top star has revolved around the business — television ratings, pay-per-view buys and ticket sales — in a climate where WWE hasn't had a serious challenger in more than 20 years.
But for Punk himself, this return has always been more about giving back to the younger talent, sharing his vision of what pro wrestling should be and helping grow AEW from a team perspective. Punk said he feels like his nine years in WWE were almost "wasted," with too much time "walking on hot coals," worried about which veteran he'd upset. His mission now isn't putting on five-star matches, winning championships or selling out arenas as much as it's been about those emotional moments with Hobbs and making up for lost time.
"F— buyrates and million-dollar gates and everything," Punk said. "That's what this s— is about. What's the best part? The best part is making these new relationships and showing guys what a lot of guys never showed me but should have: to not be a d— to these kids who just want to be pro wrestlers."
DARBY ALLIN WAS the wrestler tasked with being CM Punk's first match since January 2014. AEW president Tony Khan told him as much last July in a late-night phone call. When Punk returned last Aug. 20 at a sold-out United Center in Punk's hometown of Chicago, Allin was in the arena rafters with his on-and-off-screen mentor Sting, watching the promo of a man who was one of his wrestling inspirations.
Two weeks later, Allin was in the bowels of NOW Arena in Hoffman Estates, Illinois, getting ready to be Punk's first wrestling opponent in 92 months. Allin, a 29-year-old, sinewy daredevil of a wrestler with punk-rock sensibilities much like the man he'd be facing, debuted in wrestling the same year Punk walked out on WWE. In his locker room, Allin confided in Sting, a 63-year-old legend in the industry, about feeling the magnitude of the "emotional" moment.
"[Sting] knew I was super nervous," Allin said. "He came up to me and we had this talk. I told him how this day goes beyond just wrestling Punk. It's validation for like everything I've worked for. I started thinking of every little moment in my life leading up to this. Like, this is a trip."
Allin's experience underscores the magnitude of Punk coming to AEW, a promotion with a young roster of wrestlers, many of whom grew up watching and idolizing Punk. Allin is "straight edge" — he doesn't consume any drugs or alcohol — like Punk, who has spread a drug-free message throughout his career. Lee Moriarty, a 27-year-old AEW prospect, said he didn't know what being straight edge was until he became a fan of Punk, and now he, too, follows those principles.
play
1:41
After seven years, CM Punk makes his return to professional wrestling and receives massive cheers on AEW Rampage in Chicago.
Now 43 years old, Punk was a five-time WWE world champion from 2005 to 2014. He held the WWE championship for 434 straight days, the sixth-longest reign in the title's history. During that decade, the heavily tattooed, brash Punk became one of the biggest stars in wrestling on the back of his authenticity. He didn't look like the muscle-bound bodybuilders of yesteryear. He was relatable and had the reputation of brilliantly blending real life with the scripted wrestling world, earning the nickname "The Voice of the Voiceless" for speaking truth to power. Punk had iconic matches with the likes of The Rock and John Cena during his WWE run.
Things ended badly, though. A sick, injured, exhausted and unhappy Punk walked out on WWE after the Royal Rumble in January 2014. Five months later, WWE sent him notice that the company was terminating his contract — on the day of his wedding to then-fellow WWE wrestler AJ Lee. In late 2014, Punk bared all about his time with WWE on a podcast, blaming WWE for persistent health issues and running him ragged. Punk was sued for defamation by WWE doctor Chris Amman, a case Punk eventually won.
Punk had an acrimonious relationship with WWE during his time away, cutting ties with people there, including former friends. He started training in MMA, was signed by the UFC and took acting roles in movies and on television. He said in interviews that he'd never perform in wrestling again. Then, Khan, the son of billionaire Jacksonville Jaguars owner Shahid Khan and a lifelong wrestling fan, launched AEW in 2019. After watching the product and seeing there could be a path forward in wrestling outside of WWE, Punk signed with AEW in the summer of 2021.
Dax Harwood, part of one of AEW's top tag teams with Cash Wheeler as FTR, said he was "apprehensive" at first when Punk signed with AEW. Punk made enemies in WWE, where Harwood and Wheeler worked previously. Punk had a reputation for being standoffish, perhaps even challenging to work with. Harwood wasn't sure how that would mix with AEW's relatively tranquil locker room.
"I heard all the stories about him," Harwood said. "I heard he's a strong-willed guy, and I'm a strong-willed guy myself."
Harwood and Wheeler ended up hitting it off with Punk, in no small part due to their shared reverence for WWE legend Bret Hart. Dustin Rhodes was on the WWE roster with Punk for years in the 2000s and 2010s, but said he didn't begin forming a close bond with him until they were both in AEW. Rhodes, 53, is a wrestler and coach for AEW, and he has seen Punk be a mentor to the younger wrestlers over the last nine months. Rhodes said he believes that many of the ill feelings toward Punk from other wrestlers in the industry are rooted in "jealousy," and the negative perceptions about him backstage are untrue.
"He is always coaching up the talents when they come back or on their promos or a certain move, saying 'less is more' sometimes," Rhodes said. "Those are very, very important things to learn as a young superstar in the wrestling world. Because you've got to take advantage of that. And he is very accessible in that manner."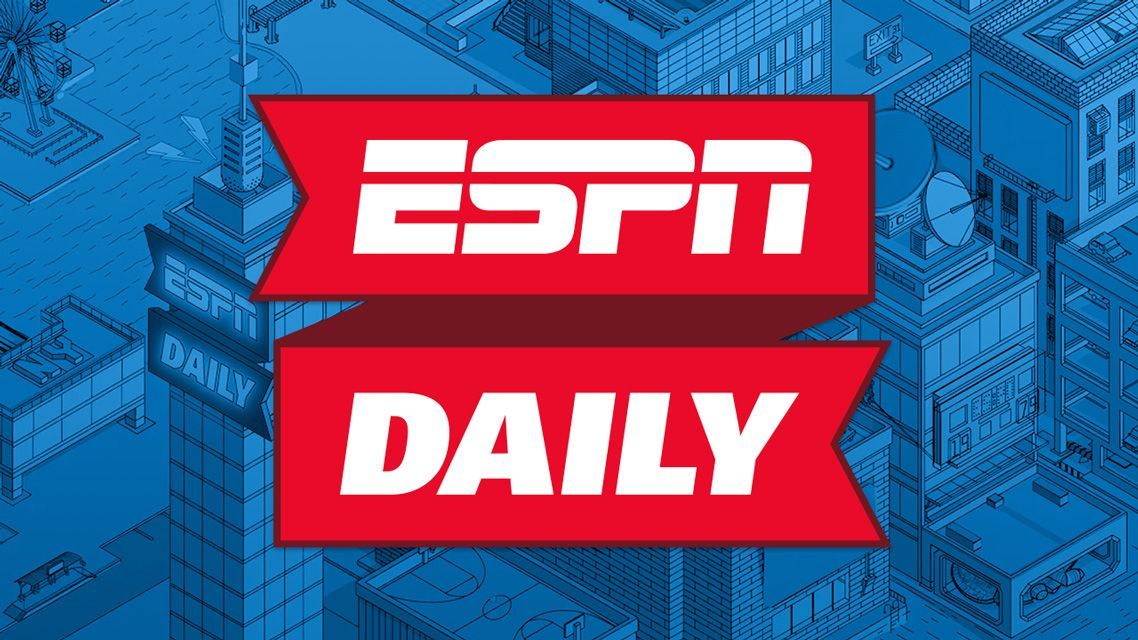 Monday through Friday, host Pablo Torre brings you an inside look at the most interesting stories at ESPN, as told by the top reporters and insiders on the planet. Listen
Hobbs, 31, said he couldn't even remember the number of times Punk has pulled him into his locker room to watch one of his matches to offer guidance, noting that Punk's main advice to him is usually about slowing down and not rushing. Max Caster, a 32-year-old rising AEW star, said that he has come to Punk for business advice for non-wrestling ventures. Caster added Punk made him feel included in the locker room, from randomly stealing his jacket and posting a photo wearing it on Instagram to greeting him last September following a two-month suspension for reciting a controversial rap on TV.
"It was the day I came back from suspension and I thought, 'Oh gosh, everyone hates me,'" Caster said. "I passed by him in the hallway, and he says, 'Hey Max, what's up?' And I go, 'Oh God, this guy knows my name.' I've never even met him. That told me what kind of guy he was, that he was educated on who was on the roster from top to bottom.
"I was just nervous that CM Punk was here. He's a hero of mine, he really is. For him to say, 'hello' is huge."
Punk said he wants to do for the younger wrestlers in AEW what legends like Eddie Guerrero and Tracy Smothers did for him as mentors. But he's also doing it because of other older wrestlers he worked with who did not do the same.
"There's people that I shared locker rooms with that I wish I could have just talked to like a normal person and picked their brain," Punk said. "But everybody is like so guarded. I literally just want to show them I'm an open book. I'm here. I'm walking around all day [backstage]. Whatever you need, I'm literally here for you. It's a full-time job, baby. Literally. But I love it."
HARWOOD LANDED IN Austin, Texas, on Mar. 23 and went straight with his bags to a Starbucks near the hotel where AEW personnel stayed. The promotion ran its Dynamite television program later that night in nearby Garland.
Within minutes of Harwood arriving, CM Punk pushed his way through the doors of the coffee shop, which came as no surprise to Harwood since they're "both Starbucks aficionados." Punk and Harwood sat down together, and Punk asked Hardwood what he was doing on the show later. Harwood said he didn't know.
"[Punk] said 'F— it, you and I are gonna wrestle tonight,'" Harwood said. "I'm like, 'Dude, please. Don't get my hopes up.' I'll be damned, but an hour or two later he sends me a text saying, 'We're opening up the show.'"
Last December, Harwood, Wheeler and their then-stablemate MJF had a six-man tag team match against Punk, Allin and Sting. Punk, Sting and Allin let Harwood and Wheeler call the match in the ring on the fly, the first time Punk said he has been comfortable enough to allow other wrestlers to do that in one of his matches in more than a decade.
"Some of the things on the backend were talked about," Harwood said. "But he trusted me to lead that match, because he knew that sometimes guys will try to take advantage of you in the ring and just get their s— in, quote-unquote. I'm not that kind of guy. I don't have s— to get in. For me, I care about the story, about the match. And I care about how well both of us look coming out of that match. He, again, had the trust in me to lead that match and I am forever grateful for him for that."
In just nine months, CM Punk has made a lasting impression on the wrestlers at AEW. AEW
Punk did the same thing for Harwood and Wheeler on Feb. 9, a tag match pitting Punk and top AEW star Jon Moxley against them. And the pattern continued for the Punk vs. Harwood singles match in March, which Punk calls "the most perfect match I've probably ever had."
"They're f—ing artists," Punk said of Harwood and Wheeler. "People who don't understand pro wrestling will read that and groan. I understand that. But we're operating on a different level and it's OK not to understand it. We get it and I appreciate the s— out of both those guys."
The appreciation is mutual. One of Harwood's favorite matches ever was Punk against John Cena on a 2013 episode of Monday Night Raw. Harwood told Punk that, and the two got together after an AEW TV show to watch the match back at Punk's hotel room. Harwood said the "storytelling" and "pacing" of that match are what blew him away. But the two have bonded most out of their admiration for Hart, whose work inside the ring they adore and emulate. Harwood and Punk text with Hart about wrestling as well.
"I'll send screenshots to Punk and he'll be jealous," Harwood said. "So him and Bret will talk about hockey and he'll send me screenshots of him and Bret talking about hockey. And I get jealous and I'm like, 'Aw s—, I need to learn more about hockey.' It's just a cool little friendship we have."
Harwood said those Punk matches were a "springboard" for him and Wheeler, who are now on the hottest run of their careers. Punk said he finally felt like he fully found his legs for the first time during those matches, which led to a pair of epic battles with MJF, including a bloody dog-collar match at the Revolution pay-per-view event in March.
After he was booked to win that storyline-capping match against MJF, there was only one thing for Punk to do: go for the title against Page and further establish himself as the face of AEW. That was the natural evolution of Punk's character in AEW, even if it isn't necessarily what Punk the man set out to do. But he said he's been able to parse both things with an eye toward further growth for the promotion, which helps everyone involved.
"I don't run things," Punk said. "I don't call shots. I don't book s—. I just make towns. And I have a wealth of experience that I can draw from. I have a wealth of positive and negative experiences that I can draw from. I'm not sitting back trying to hold people back, politic or anything. I'm just literally trying to make this place better."
Khan said that everyone who has been in the ring with Punk so far has been better off for it, reached a bigger audience and "learned in the process." Khan said Punk has "helped everybody in AEW" and he doesn't expect that to change if Punk becomes champion and the face of the promotion.
"CM Punk is somebody who continuously, I think, surprises me, amazes me," Khan said. "He helped grow our business when he arrived here. I think that, in particular, [he] helped put a spotlight on a lot of the young wrestlers. He's also been a really good mentor backstage in addition to just helping people's wallets potentially by getting everybody in a better position in this company, by helping us get more fans, sell more pay-per-views, sell more merchandise. He's been that guy."
CM Punk will face "Hangman" Adam Page for the AEW World Championship on Sunday at AEW Double or Nothing. AEW
Allin said he could not find any issue with Punk going for the title, saying he thought Punk should have been champion in AEW even earlier. Allin said that Punk could have leaned on his superstar name, but instead has been on television just about every week while also filming two outside television shows. After his extended sabbatical, Punk has wrestled 19 matches in nine months, more than most expected.
"Everyone wants the top spot, but not everyone wants to work for it," Allin said. "But he works for it. He'll go out there randomly on a Wednesday with a match announced like an hour before the show and kill it. He's not a prima donna. He's ready to rock. He's ready to be put to work. That's all I want everyone to do, is to be put to work. You've got guys saying, 'I don't feel like wrestling this week.' Get the f— out of here. With him, it's like, 'Let's go. I want to show people what I can do. I want to be put to work.' Lead by example, and he's the best at it."
Rhodes said he wanted to see for himself what it was like to wrestle Punk. The two had never had a singles match against one another in WWE, but on Apr. 20, that changed. Rhodes said the way Punk tells a story in the ring — by slowing down, listening to the fans and adapting from there — is right up there with legends he's wrestled like Ric Flair or Shawn Michaels.
"The biggest deal that I think Punk does that I try to teach my students in my wrestling school at Rhodes Wrestling Academy is to make people feel something," Rhodes said. "They're not gonna remember 1,000 moves. Yes, they're impressive. But they're gonna remember how you made them feel at the end of the match. And they're either going to come back or they're not. And we want them to come back. We want them to feel something each and every time."
PUNK HAS ALREADY lifted AEW from a business perspective. Double or Nothing at T-Mobile Arena in Vegas will mark the first time AEW has sold more than $1 million in tickets. AEW will do a $1 million gate again on Jun. 26 in Chicago at United Center for a co-promoted event with New Japan Pro-Wrestling dubbed Forbidden Door. Television ratings and pay-per-view buys are on an uptick for AEW, year over year, with the added presence of Punk and other big-name free-agent signees like Bryan Danielson.
Putting the title on Punk would seem to be a wise business decision considering his star power. But Punk isn't necessarily thinking about that. He's having the time of his life and believes this is what his pro-wrestling experience should have always been. Punk said it makes him "angry" that he missed out on this type of environment for years — and not just the seven years away from the industry. He also means the decade he spent in WWE, where he said he spent far too much time "chewing my fingernails off" worrying about "what old head you're gonna make mad for no reason."
"I feel like it was kind of wasted," Punk said. "It could have been so much more. It should have been so much more. And now, this is everything I dreamed pro wrestling could and should be. And I'm here and I'm f—ing in the moment. I'm not thinking about tomorrow. I'm not worried about s— that happened yesterday. I'm living in the moment and I'm 100% in my f—ing prime, best I've ever been."
And he's not just referring to the significant pay-per-view victories or even the adoring crowds that have greeted him with open arms and loud chants over the last nine months. Punk also means the wisdom he's been able to pass on and the moments he has created for younger wrestlers like Hobbs.
After their match at Arthur Ashe Stadium, Hobbs said Punk leaned in when Hobbs was on the ground and patted him on the chest. Punk whispered: "This is for your mom."
"He didn't have to do that," Hobbs said. "He could have made the match all about him. He did want to showcase me in the match and he did that."