Fantasy women's basketball: Jonquel Jones is one of many Connecticut
May 4, 2022Andre SnellingsESPN This is part of a 12-team series of fantasy women's basketball previews leading up to the 2022 WNBA season. For more information on ESPN's newest fantasy game, check out how to play fantasy women's basketball.Head coach: Curt Miller (7th season)2021 record: 26-62021 offensive efficiency: (104.1, 3rd in WNBA)2021 defensive efficiency: (91.7,…

May 4, 2022
Andre SnellingsESPN
This is part of a 12-team series of fantasy women's basketball previews leading up to the 2022 WNBA season. For more information on ESPN's newest fantasy game, check out how to play fantasy women's basketball.
Head coach: Curt Miller (7th season)
2021 record: 26-6
2021 offensive efficiency: (104.1, 3rd in WNBA)
2021 defensive efficiency: (91.7, 1st)
2021 pace: 90.96 (12th)
Jump ahead: Offseason moves | Key stats | Top fantasy options | Sleeper
About the Sun
The Sun dominated the Eastern Conference last season, with a WNBA-best 26-6 record that was 10 games ahead of the second place Chicago Sky in the East. They had both the best home record (15-1) and the second-best road record (11-5) in the league, and finished the season on a 14-game winning streak.
They came up short in the playoffs, though, losing 3-1 in the semifinals to the eventual champion Sky. The Sun return a stacked lineup, led by reigning WNBA MVP Jonquel Jones and one of the best front lines in the game, and will make another serious go at a championship this season.
Sign up for your free Fantasy Women's Basketball league today!
Prepare with projections and fantasy outlooks for the top WNBA players
Offseason moves
The Sun's biggest move of the offseason was to re-sign MVP Jonquel Jones to a two-year extension to keep her in Connecticut.
2 Related
Their second offseason priority was to get younger and more explosive scoring potential from the backcourt. The Sun stalled out in the playoffs last season, against a Sky squad with the defensive length to slow down their frontcourt. Last season's starting shooting guard, Briann January, was more of a perimeter defender than a scorer, and she left in the offseason to join the Storm. The Sun filled their shooting guard void with the splash signing of Courtney Williams. Williams was 11th in the WNBA in scoring last season and shot 38.2% from behind the arc, a skill set the Sun needs to complement their awesome frontcourt.
The Sun also enter this season with a healthy Alyssa Thomas, which is almost like another big signing. Thomas tore her Achilles tendon in January of 2021 and missed most of the regular season, returning in a limited role at the end of the season before ramping up a bit in the playoffs. She's healthy to start this season, and gives the Sun yet another strong contributor in their frontcourt. Her presence, along with new addition Williams, could also eat into the scoring opportunities of their teammates as the Sun field a very talented lineup where there's only one ball.
Jones will get hers as the centerpiece of the offense, but everyone else will likely have to be willing to sacrifice some individual production for the good of the team.
Key stats
The Sun are led by arguably the most intimidating frontcourt in the WNBA, and it shows in their style of play. They play at the slowest pace in the league, methodically working the ball into the middle to create high percentage looks in the paint or open perimeter jumpers against defenses that have been packed in. This season, with the upgrade in backcourt scoring that Courtney Williams represents, the Sun offense could be even more balanced.
On defense, the Suns bigs are just as effective at controlling the middle and forcing their opponents into lower efficiency looks. They were No. 1 in defensive rating by a significant margin last season, and project to be just as strong this season.
Top fantasy options
Jonquel Jones, F/C (40.0 projected FP/G): Jones is the reigning MVP of the WNBA after a monster season in which she stepped into a larger offensive role and proved that she was ready to carry the load, setting career highs of 19.4 PPG (fourth in WNBA), 2.8 APG and 1.6 3PG. But, it should be noted that her defensive performance, while excellent, was in line with previous production as none of her 11.2 RPG, 1.3 SPG nor 1.3 BPG set career highs. That's an important distinction for the 28-year-old superstar, because it shows that her production last season was in no way fluky, but instead just a natural progression of a transcendent star reaching her prime. Thus, Jones is very likely to battle for the top fantasy production in the WNBA again this season.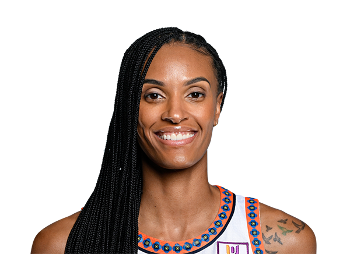 DeWanna Bonner, F (32.6 FP/G): Bonner joined the Sun for the 2020 season, which Jonquel Jones sat out, and averaged career marks of 19.7 PPG and 7.8 RPG that season. Last season, with Jones back and playing at MVP level, Bonner's production took a step back with career-low marks of 15.2 PPG and 6.4 RPG. This latter is likely Bonner's level again this season, with Jones still featured and newcomer Courtney Williams also needing her touches. At 6-4, Bonner is one of the more productive forwards in the league. Even as a secondary option, she's still a nightly double-double threat that's an excellent passer out of the post (career-best 3.5 APG last season) and can stretch the floor (1.3 3PG for her career). She's also strong at generating defensive stats, averaging a combined 2.0 SPG and BPG for her career.
Experience the 2022 WNBA season like never before with the first full-featured fantasy league game dedicated to a professional women's sport. Get a team or start a league today!.
Sign up for free!
Courtney Williams, G (24.8 FP/G): Williams joined the Sun this offseason, fresh off a campaign in which she set career highs of 16.5 PPG, 4.0 APG and 1.2 3PG for the talent-strapped Dream. She ranked eighth in the WNBA in fantasy points per game, behind new teammate Jonquel Jones (2nd) but ahead of DeWanna Bonner (12th). However, on such a deep Sun roster, Williams' role seems likely to be smaller with diminished fantasy upside. She slots into the starting role left empty by the departure of Briann January, and still projects as the Sun's leading backcourt scorer. She may improve her efficiency with opposing defenses focused more on slowing her dominant teammates in the frontcourt. Williams has been suspended by the WNBA for the first two games of the season, due to a physical altercation with a former teammate that was captured on video.
Jasmine Thomas, G (22.7 FP/G): Thomas is entering her 12th WNBA season, and her eighth with the Sun. Her game and role are known commodities, and at this point in her career she has taken a step back from her offensive peak. She's a floor general and floor spacer, capable of knocking down about 40% of her 3-point shots, and is likely to average in the low double digits as a scorer. She'll have the ball in her hands a lot as the point guard, but her own production will take a back seat to the talented scorers she'll share the floor with.
Brionna Jones, C (22.5 FP/G): Jones started at forward last season, and combined with Jonquel Jones and DeWanna Bonner to give the Sun perhaps the most imposing frontcourt in the WNBA. She set career bests across the board, averaging 14.7 PPG, 7.3 RPG and 1.8 APG in 30.6 MPG. The offseason addition of high-scoring Courtney Williams, and the return to health of Alyssa Thomas, could both combine to eat into Jones' production a bit this season. But, Jones is also 26 years old and just entering the prime of her career, so she's likely to continue to perform at a high level this season.
Sleeper
Alyssa Thomas, F (22.8 FP/G): Thomas had the best season of her career in 2020, setting career marks of 15.5 PPG, 9.0 RPG, 4.8 APG and 2.0 SPG in 32.8 MPG for the Sun. However, she tore her Achilles tendon in January 2021 and missed most of last season. She did return for the playoffs, averaging 13.3 PPG, 7.3 RPG and 4.3 APG in 25.0 MPG across three games with the Sky, and is expected to be healthy enough to play at full speed this season. However, she now slots in on a deep Sun squad next to a team full of huge contributors. She's unlikely to match the minutes and role she had in 2020, but she should still have a large enough role to post numbers worthy of fantasy hoops consideration. And she has proven upside if her role were to increase for any reason during the season.