Fantasy women's basketball: Draft tiers for G and F/C positions
Apr 14, 2022Eric MoodyESPN To build a winning fantasy women's basketball team, you don't have to spend tons of time preparing. You just need a plan.That's where breaking the positions into draft tiers can be extremely helpful. Those fantasy managers who do a little extra work to know which players and positions to focus on…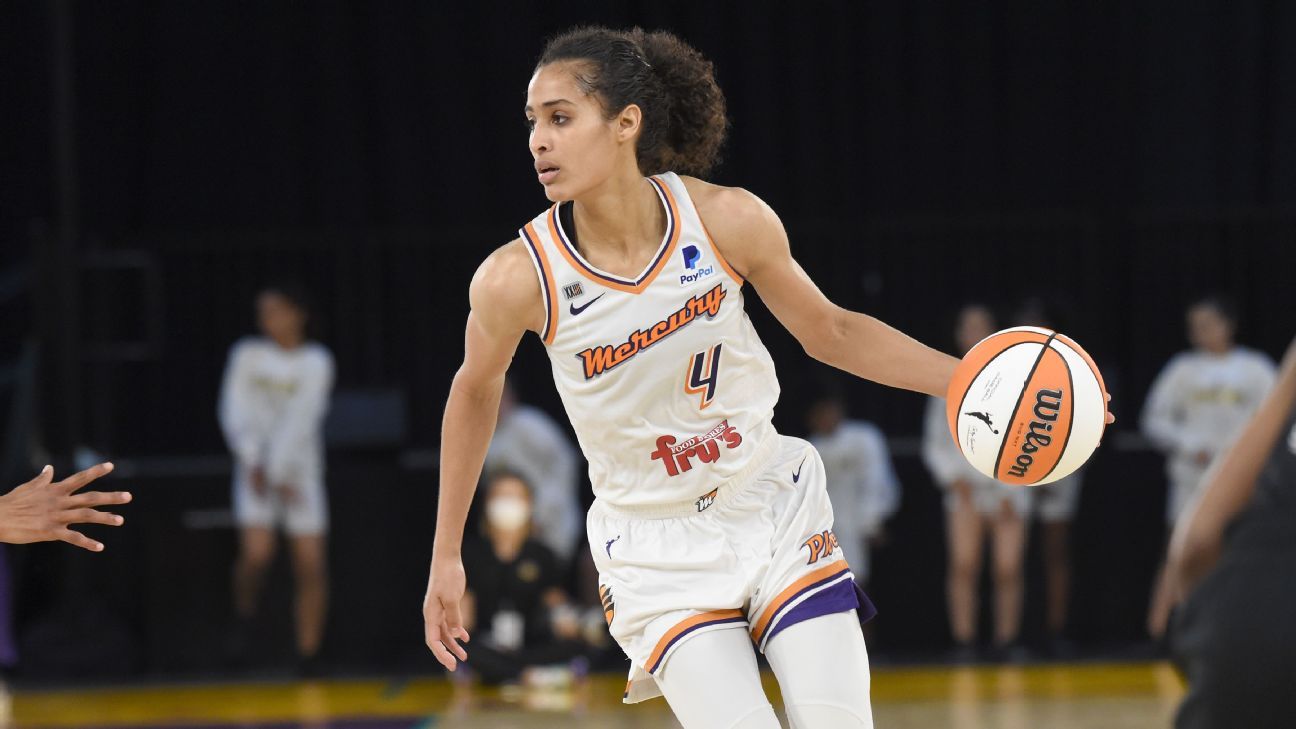 Apr 14, 2022
Eric MoodyESPN
To build a winning fantasy women's basketball team, you don't have to spend tons of time preparing. You just need a plan.
That's where breaking the positions into draft tiers can be extremely helpful. Those fantasy managers who do a little extra work to know which players and positions to focus on early in the draft and which to leave until it the middle or later rounds gain a big advantage.
On the basis of our projections and tiers, the forward/center position is much deeper than the guard position this season, so be sure to factor that in when making your selections.
Sign up for your free Fantasy Women's Basketball league today!
Prepare with projections and fantasy outlooks for the top WNBA players
With that in mind, here are my draft tiers for the F/C and G positions for fantasy women's basketball leagues in 2022:
Forward/Center
Tier 1
Tina Charles, Phoenix Mercury
Breanna Stewart, Seattle Storm
Jonquel Jones, Connecticut Sun
You can't go wrong with the three players in this positional tier. Charles played well her debut season with the Mystics after not playing in 2020. In addition to posting a career-high 23.4 PPG, she added 9.6 RPG, 2.1 APG, 0.9 SPG and 1.0 BPG while shooting a career-best 36.5% clip from beyond the arc. Meanwhile, last season Stewart became the fourth player to score 2,500 career points and the fastest player to record 2,500 points/1,000 rebounds. Jones averaged 19.4 PPG, 11.2 RPG, 2.8 APG, 1.3 SPG and 1.3 BPG in 31.7 MPG while shooting 51.5% from the field. According to our projections, Charles, Stewart and Jones are capable of averaging 40 or more fantasy points per game.
Tier 2
Sylvia Fowles, Minnesota Lynx
A'ja Wilson, Las Vegas Aces
DeWanna Bonner, Connecticut Sun
There is another group of players to keep an eye on in your draft. In 30 minutes per game, Fowles averaged 16 PPG, 10.1 RPG, 1.4 APG, 2.0 SPG, and 2.0 SPG, ranking among the league's best centers last season. Wilson posted career highs in rebounds, assists and minutes last season. In 2021, she averaged 18.3 PPG, 9.3 RPG and 3.1 APG. A career low 15.2 PPG and 6.4 RPG were recorded by Bonner, the only player to win the Sixth Woman of the Year award multiple times in league history, while playing behind Jones. However, Bonner is still a solid fantasy option.
Tier 3
Candace Parker, Chicago Sky
Natasha Howard, New York Liberty
Elena Delle Donne, Washington Mystics
Myisha Hines-Allen, Washington Mystics
Parker is a very well-rounded player. Last season she averaged 13.3 PPG, 8.4 RPG, 4.0 APG, 1.0 SPG and 1.2 BPG. If drafting Parker, however, you do need to keep in mind her injury history. She's missed extended time in two of the last three seasons. When healthy, she averaged 16.2 PPG, 1.7 APG, and 1.3 SPG in 27.5 MPG while shooting 49.4% from the field. Additionally, fantasy managers should be aware of Delle Donne's availability. Because of back issues, she has only played in three games over the last two seasons. Delle Donne averaged 19.5 PPG and 8.3 RPG during her last complete season, and if she can stay on the court that's the upside that remains. Due to a knee injury and a non-COVID illness, Hines-Allen only played 18 games last season but she averaged 13 PPG, 7.0 RPG, 2.5 APG and 1.3 SPG along the way. Strong numbers across the board.
Tier 4
Liz Cambage, Los Angeles Sparks
Teaira McCowan, Dallas Wings
NaLyssa Smith, Indiana Fever
Nneka Ogwumike, Los Angeles Sparks
Monique Billings, Atlanta Dream
Emma Meesseman, Chicago Sky
Cheyenne Parker, Atlanta Dream
Brianna Turner, Phoenix Mercury
Satou Sabally, Dallas Wings
Aerial Powers, Minnesota Lynx
All players in this tier have a similar range of expected outcomes, based on our projections. Cambage and McCowan, however, have the highest ceilings. Cambage will play an important role in the Sparks rotation. With the Sparks, she finished 19th in scoring, 10th in rebounds, sixth in field goal percentage and fourth in blocked shots. In 2021, McCowan had her best season. She set career highs with 11.3 PPG, 9.6 RPG and 1.6 BPG in 26.5 MPG. Don't overlook rookie Smith. She had one of the most decorated seasons in Baylor women's basketball history and averaged 22.1 PPG with 11.5 RPG. Smith should see significant minutes and her game should translate well.
2 Related
Tier 5
Alyssa Thomas, Connecticut Sun
Brionna Jones, Connecticut Sun
Elizabeth Williams, Washington Mystics
Dearica Hamby, Las Vegas Aces
Alysha Clark, Washington Mystics
Angel McCoughtry, Minnesota Lynx
Rebecca Allen, New York Liberty
Azura Stevens, Chicago Sky
Damiris Dantas, Minnesota Lynx
Jones and Thomas are two intriguing options in this tier. Jones played in all 32 regular season games for the Sun and averaged career highs in points 14.7 PPG, 7.3 RPG and 2.0 APG while shooting 57% from the field. Courtney Williams' arrival this offseason could lower her ceiling. Thomas missed the first 30 games of the season due to an Achilles injury she sustained in January 2021 while playing overseas. In 2020, she averaged 15.5 PPG, 9.9 RPG, 4.8 APG and 2.0 SPG. In the Sun's frontcourt, Thomas has a lot of competition.
Tier 6
Mercedes Russell, Seattle Storm
Amanda Zahui B., Los Angeles Sparks
Gabby Williams, Seattle Storm
Nia Coffey, Atlanta Dream
Kayla Thornton, Dallas Wings
Ezi Magbegor, Seattle Storm
Zahui B. has one of the higher ceiling of players in this tier. Last season, she averaged a career high 9.2 PPG in addition to 5.1 RPG and 1.0 APG in 24 MPG. With 197 games played in her seven year career, Zahui B. is very durable. The Sparks have just had a whirlwind free agency, so she could flourish as part of that team.
Tier 7
Katie Lou Samuelson, Los Angeles Sparks
Kiah Stokes, Las Vegas Aces
Isabelle Harrison, Dallas Wings
Michaela Onyenwere, New York Liberty
Chiney Ogwumike, Los Angeles Sparks
Stephanie Talbot, Seattle Storm
Bridget Carleton, Minnesota Lynx
Emma Cannon, Indiana Fever
Nyara Sabally, Dallas Wings
Ruthy Hebard, Chicago Sky
Napheesa Collier, Minnesota Lynx
Kia Vaughn, Atlanta Dream
WNBA Rookie of the Year Onyenwere averaged 8.6 points and 3.0 rebounds in 32 games last season. The steal of the 2021 draft, she has the potential to surpass last year's per game averages.
Guard
Tier 1
Skylar Diggins-Smith, Phoenix Mercury
Diggins-Smith's game keeps getting better every season. She's in a tier of her own at the guard position with her ability to score at all three levels. Diggins-Smith averaged 18 PPG last season, which ranked ninth in the league, and her 5.3 APG ranked sixth. She became the fastest WNBA player to reach 3,000 points, 1,000 assists and 200 steals in her career. Diggins-Smith is projected to average 34 fantasy PPG.
Tier 2
Arike Ogunbowale, Dallas Wings
Jewell Loyd, Seattle Storm
Sabrina Ionescu, New York Liberty
Courtney Vandersloot, Chicago Sky
Erica Wheeler, Atlanta Dream
Betnijah Laney, New York Liberty
Sabrina Ionescu has made a career out of filling up the box score. Rich von Biberstein/Icon Sportswire
No need to fret if you miss out on Diggins-Smith because this tier is full of very good options. Ogunbowale has led the Wings in points and assists in each of her first three seasons in the league. In 2022, this trend should continue. Last season, Lloyd averaged 18 PPG, 4.0 APG and 1.5 SPG, all career highs. Not to be outdone, Ionescu averaged 11.7 points, 6.1 assists, and 5.7 rebounds per game. She had 6.1 assists per game, which was the third-most in the league and the sixth-most in franchise history. Vandersloot should be one of the most productive fantasy guards this season. She averaged 10.5 PPG, 8.6 APG, 3.4 RPG and 1.7 SPG. As for Wheeler, she averaged 13.6 PPG and 5.0 APG and scored 10 or more points 23 times. Laney was the only Liberty player to start every game last season. She joined a list of players including Cappie Pondexter (2009), Diana Taurasi (2013), and Candace Parker (2015) with 16.7+ points, 5.0+ assists and 4.0+ rebounds per game. Laney averaged 16.8 points, 5.2 assists and 4.1 rebounds over a career-high 33.7 minutes per game last season. Guards in this tier are all excellent options for your fantasy team.
Tier 3
Diana Taurasi, Phoenix Mercury
Kelsey Mitchell, Indiana Fever
Ariel Atkins, Washington Mystics
Chennedy Carter, Los Angeles Sparks
Kahleah Copper, Chicago Sky
Jackie Young, Las Vegas Aces
Chelsea Gray, Las Vegas Aces
Kayla McBride, Minnesota Lynx
Taurasi will be a popular guard from this tier and rightfully so. She enters this season as the league's all-time leading scorer with 9,174 career points. Mitchell is also another guard in this tier with a high ceiling. Her fourth season with Indiana ended with her being the eighth-leading scorer in the league. As of last season, she ranked third in franchise history in 3-point field goals made (275), fourth in scoring (1,859), fifth in field goals made (659) and seventh in assists (324)
Ideally, you should draft a guard from one of the top three tiers.
Tier 4
Rhyne Howard, Atlanta Dream
Kelsey Plum, Las Vegas Aces
Allie Quigley. Chicago Sky
Allisha Gray, Dallas Wings
Tiffany Hayes, Atlanta Dream
Courtney Williams, Connecticut Sun
Aari McDonald, Atlanta Dream
Sue Bird, Seattle Storm
Jasmine Thomas, Connecticut Sun
Natasha Cloud, Washington Mystics
Riquna Williams, Las Vegas Aces
Diamond DeShields, Phoenix Mercury
Bird is one of my favorite targets in this tier. Last season she led the league with a 3.40 assist to turnover ratio dishing out 160 assists while committing just 47 turnovers. Bird provides fantasy managers with a high floor but a low ceiling, considering this will be her age 41 season. Plum, who was named the league's Sixth Woman of the Year, is a good choice if you are looking for more upside at the guard position in this particular tier. Last season, she finished 15th in the league in scoring, 14th in assists, 13th in 3-point field goal percentage and first in free throw percentage. Rookie Howard is also a solid option from this group. She was an elite finisher and shooter at Kentucky and led the Wildcats in points, rebounds, 3-pointers, steals and blocks during her senior season. It should be easy for Howard to adjust to the pro game and the opportunity is there for her to get minutes right away. From this tier onwards, the quality of players drops off considerably.
Tier 5
Marina Mabrey, Dallas Wings
Layshia Clarendon, Minnesota Lynx
Bria Hartley, Indiana Fever
Tiffany Mitchell, Indiana Fever
Brittney Sykes, Los Angeles Sparks
Mabrey has the highest fantasy ceiling of any guard in this tier. Last season, she was the Wings' second-leading scorer (13.3 PPG) behind Ogunbowale. This should continue in 2022.
Tier 6
Victoria Vivians, Indiana Fever
Danielle Robinson, Indiana Fever
Julie Allemand, Chicago Sky
Sami Whitcomb, New York Liberty
Stefanie Dolson, New York Liberty
Kristi Toliver, Los Angeles Sparks
Crystal Dangerfield, Minnesota Lynx
Natisha Hiedeman, Connecticut Sun
Robinson has the highest ceiling in this tier. Her averages were 10 PPG, 3.7 APG, and 3.5 RPG in 27.4 MPG last season. The Fever should continue to use the veteran guard as part of their rotation.
Tier 7
Marine Johannes, New York Liberty
Moriah Jefferson, Dallas Wings
Briann January, Seattle Storm
Te'a Cooper, Los Angeles Sparks
Shey Peddy, Phoenix Mercury
Sophie Cunningham, Phoenix Mercury
Kaila Charles, Connecticut Sun
Epiphanny Prince, Seattle Storm
Lindsay Allen, Indiana Fever
Jordin Canada, Los Angeles Sparks