Fantasy women's basketball: 10 sleepers for 2022
Apr 25, 2022Eric MoodyESPN The WNBA draft took place earlier this month, training camps have opened and preseason games have begun.It is less than two weeks until the start of the regular season, which means fantasy managers are preparing for their drafts.Here are 10 fantasy women's basketball sleepers who have a chance to outperform their…

Apr 25, 2022
Eric MoodyESPN
The WNBA draft took place earlier this month, training camps have opened and preseason games have begun.
It is less than two weeks until the start of the regular season, which means fantasy managers are preparing for their drafts.
Here are 10 fantasy women's basketball sleepers who have a chance to outperform their average draft positions.
Satou Sabally, Dallas Wings
(Ranking: 37)
A multitalented forward, Sabally shows every bit of the potential the Wings predicted when they drafted her in 2020. She appeared in only 17 games but averaged 12 points and 6.0 rebounds per game. Sabally has the potential to exceed expectations in 2022, especially if she plays a full season. Dallas should take advantage of her positional versatility on the court even if it means reducing the minutes of players whom the Wings selected high in the draft a year ago.
Experience the 2022 WNBA season like never before with the first full-featured fantasy league game dedicated to a professional women's sport. Get a team or start a league today!.
Sign up for free!
Kelsey Plum, Las Vegas Aces
(Ranking: 38)
Last season, Plum ranked 15th in scoring, 14th in assists, 13th in 3-point field goal percentage, and first in free throw percentage on her way to a career average of 15 PPG and a Sixth Woman of the Year Award. A large part of her role in 2022 will be replacing Liz Cambage, who was signed by the Los Angeles Sparks during free agency and had a usage rate of 25% last season with the Aces.
Natasha Cloud, Washington Mystics
(Ranking: 45)
Cloud averaged 6.4 assists, 3.6 rebounds and 1.6 steals per game last season after sitting out the 2020 season. Her biggest opportunity from a fantasy perspective is in the scoring department. Cloud averaged just 7.7 field goals per game while shooting 39% from the field. During the past three seasons, she has been named to the All-WNBA Defensive Team. Although Cloud will continue to accumulate defensive stats, she might be able to exceed fantasy expectations with an increase in offensive stats.
Diamond DeShields, Phoenix Mercury
(Ranking: 49)
In a three-team trade this offseason, the Mercury acquired DeShields from the league champion Chicago Sky. She has averaged 13.2 PPG, 4.3 RPG, 2.2 APG and 1.2 SPG in 113 career games (89 starts). DeShields, 26, has been recognized as an All-Star and an All-WNBA performer. As a scorer, wing defender and open-court threat, she is extremely versatile.
Damiris Dantas, Minnesota Lynx
(Ranking: 52)
Dantas' seventh season was cut short by a Lisfranc injury in her right foot. She played in 24 games, averaged 8.0 points, 4.0 rebounds and 2.3 assists in 24 minutes per game while shooting 38% from the field. As Napheesa Collier prepares for the birth of her first child, Dantas is expected to have a greater role for the Lynx. Increasing her field goal percentage will increase her statistical production. In the race for the starting role, Dantas is ahead of Crystal Dangerfield. It is important to monitor this situation as the regular season approaches.
2 Related
Gabby Williams, Seattle Storm
(Ranking: 61)
Williams had a great EuroLeague season. After leading Sopron Basket to its first title, she was named EuroLeague Final Four MVP. Williams is versatile, so fantasy managers can get a lot of minutes and offensive and defensive stats from her. In 2020, she averaged a career-high 7.7 PPG and 25 MPG with the Chicago Sky. Williams scored 10 points or more in seven games that season. There's a chance she'll set new per-game highs in multiple categories with the Storm.
Ezi Magbegor, Seattle Storm
(Ranking: 71)
Magbegor appeared in 30 games, making three starts in 2021. She averaged 6.6 PPG, 4.0 RPG, 1.0 BPG, 1.0 APG and 0.6 SPG. Due to Mercedes Russell and Breanna Stewart's presence, Magbegor has had to handle limited minutes very efficiently. That said, she has a lot of value on her own. In the event that Stewart or Russell miss time, Magbegor is set up to become a potential league winner in a Storm offense that averaged 85 points per game (second) in 2021.
Aari McDonald, Atlanta Dream
(Ranking: 72)
Last year, McDonald led all rookies with 59 assists and 25 steals, as well as 189 total points, 32 3-pointers made, and 104 3-pointers attempted. This was impressive considering she averaged only 16.4 MPG. With Chennedy Carter gone, McDonald will no longer be competing for playing time with her. This is a big deal. Last season, Carter had a usage rate of 25.6%. McDonald will, however, have to coexist with Erica Wheeler and Nia Coffey.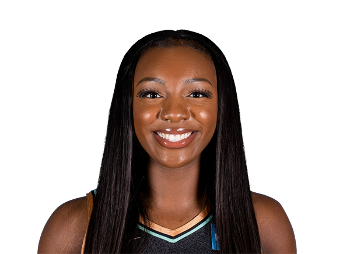 Michaela Onyenwere, New York Liberty
(Ranking: 79)
The 2021 WNBA Rookie of the Year averaged 8.6 points (first among rookies), 2.9 rebounds (second among rookies) and 22.5 minutes per game (first among rookies). Although this is a reasonable floor, it is not her ceiling. In addition to Onyenwere, the likes of Sabrina Ionescu, Natasha Howard, Sami Whitcomb and Betnijah Laney will all compete for the Liberty's final starting spot. Onyenwere is still an important member of the Liberty's rotation even if she is not named the starter.
Evina Westbrook, Seattle Storm
(Ranking: NR)
During the Storm's training camp, Westbrook has been the last player off the court every day. It's great to see a rookie with that kind of work ethic. At Tennessee, Westbrook played in 36 games last season, averaging 9.0 PPG, 3.7 RPG and 3.1 APG. Her versatility to play any guard position on both sides of the ball has impressed both Storm head coach Noelle Quinn and future Hall of Famer Sue Bird. Do not overlook Westbrook in your drafts, especially if you are participating in deeper formats.