Fantasy WNBA: Fantasy women's basketball rankings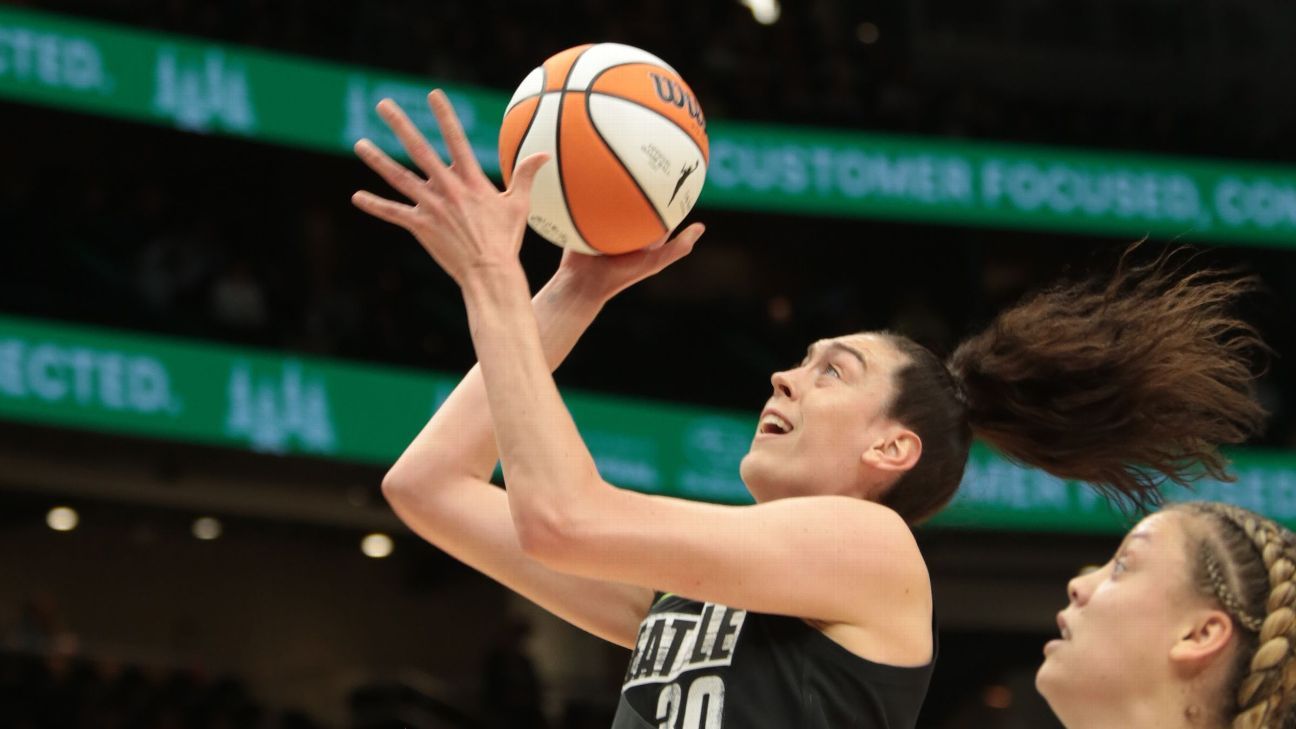 The WNBA season has tipped off and here are ESPN's updated fantasy women's basketball rankings based on the following scoring system:
Experience the 2022 WNBA season like never before with the first full-featured fantasy league game dedicated to a professional women's sport. Get a team or start a league today!.
Sign up for free!
• Point = 1 point
• Rebound = 1 point
• Assist = 1 point
• Made 3-pointer = 1 point
• Steal = 2 point
• Block = 2 point
ESPN's fantasy experts André Snellings (AS) and Eric Moody (EM) have both provided their rankings, and the rankings listed below are the average of the two. The preseason rankings (PS) are listed on the right side.
Ready to play? Start or join a free fantasy WNBA league
Prepare with projections and fantasy outlooks for the top WNBA players
Top 75 Fantasy WNBA Rankings
Updated: May 13
1. Breanna Stewart, Sea, F1 (AS: 2 | EM: 1 | PS: 2)
2. Jonquel Jones, Conn, F2 (AS: 1 | EM: 3 | PS: 3)
3. Sylvia Fowles, Min, C1 (AS: 3 | EM: 2 | PS: 4)
4. Tina Charles, Phx, C2 (AS: 5 | EM: 4 | PS: 1)
4. A'ja Wilson, LV, F3 (AS: 4 | EM: 5 | PS: 5)
6. Skylar Diggins-Smith, Phx, G1 (AS: 6 | EM: 6 | PS: 6)
7. DeWanna Bonner, Conn, F4 (AS: 7 | EM: 8 | PS: 7)
7. Candace Parker, Chi, F5 (AS: 8 | EM: 7 | PS: 8)
9. Jewell Loyd, Sea, G2 (AS: 10 | EM: 9 | PS: 13)
10. Elena Delle Donne, Wsh, F6 (AS: 9 | EM: 11 | PS: 10)
11. Natasha Howard, NY, F7 (AS: 11 | EM: 10 | PS: 9)
12. Kelsey Mitchell, Ind, G3 (AS: 13 | EM: 12 | PS: 20)
13. Sabrina Ionescu, NY, G4 (AS: 12 | EM: 16 | PS: 12)
13. Courtney Vandersloot, Chi, G5 (AS: 15 | EM: 13 | PS: 16)
13. Liz Cambage, LA, C3 (AS: 14 | EM: 14 | PS: 19)
16. Arike Ogunbowale, Dal, G6 (AS: 17 | EM: 15 | PS: 11)
17. Myisha Hines-Allen, Wsh, F8 (AS: 16 | EM: 17 | PS: 14)
18. Ariel Atkins, Wsh, G7 (AS: 18 | EM: 19 | PS: 21)
19. Betnijah Laney, NY, F9 (AS: 20 | EM: 18 | PS: 18)
20. Erica Wheeler, Atl, G8 (AS: 19 | EM: 21 | PS: 17)
21. Rhyne Howard, Atl, G9 (AS: 21 | EM: 20 | PS: 34)
22. Nneka Ogwumike, LA, F10 (AS: 23 | EM: 22 | PS: 24)
23. Teraira McCowan, Dal, C4 (AS: 22 | EM: 25 | PS: 22)
24. Alyssa Thomas, Conn, F11 (AS: 25 | EM: 23 | PS: 43)
25. Diana Taurasi, Phx, G10 (AS: 27 | EM: 26 | PS: 15)
25. Kelsey Plum, LV, G11 (AS: 29 | EM: 24 | PS: 38)
27. NaLyssa Smith, Ind, F12 (AS: 26 | EM: 28 | PS: 25)
28. Allie Quigley, Chi, G12 (AS: 28 | EM: 27 | PS: 39)
29. Emma Meesseman, Chi, C5 (AS: 31 | EM: 30 | PS: 27)
30. Kahleah Copper, Chi, G13 (AS: 30 | EM: 32 | PS: 33)
31. Monique Billings, Atl, F13 (AS: 32 | EM: 31 | PS: 26)
32. Brionna Jones, Conn, C6 (AS: 36 | EM: 34 | PS: 40)
32. Jackie Young, LV, G14 (AS: 24 | EM: 46 | PS: 42)
34. Chennedy Carter, LA, G15 (AS: 39 | EM: 33 | PS: 23)
35. Brianna Turner, Phx, F14 (AS: 38 | EM: 35 | PS: 28)
35. Cheyenne Parker, Atl, F15 (AS: 37 | EM: 36 | PS: 29)
37. Chelsea Gray, LV, G16 (AS: 34 | EM: 40 | PS: 35)
37. Sue Bird, Sea, G17 (AS: 45 | EM: 29 | PS: 46)
39. Kayla McBride, Min, G18 (AS: 35 | EM: 41 | PS: 36)
40. Aerial Powers, Min, F16 (AS: 40 | EM: 38 | PS: 31)
40. Natasha Cloud, Wsh, G19 (AS: 33 | EM: 45 | PS: 45)
42. Tiffany Hayes, Atl, G20 (AS: 42 | EM: 37 | PS: 30)
43. Courtney Williams, Conn, G21 (AS: 44 | EM: 39 | PS: 32)
44. Jasmine Thomas, Conn, G22 (AS: 41 | EM: 44 | PS: 44)
45. Satou Sabally, Dal, F17 (AS: 47 | EM: 42 | PS: 37)
45. Allisha Gray, Dal, G23 (AS: 46 | EM: 43 | PS: 41)
47. Marina Mabrey, Dal, G24 (AS: 43 | EM: 52 | PS: 50)
48. Alysha Clark, Wsh, F18 (AS: 50 | EM: 47 | PS: 51)
49. Diamond DeShields, Phx, G25 (AS: 48 | EM: 51 | PS: 49)
50. Dearica Hamby, LV, F19 (AS: 52 | EM: 50 | PS: 47)
51. Layshia Clarendon, Min, G26 (AS: 54 | EM: 49 | PS: 48)
52. Damiris Dantas, Min, F20 (AS: 56 | EM: 48 | PS: 52)
53. Elizabeth Williams, Wsh, C7 (AS: 53 | EM: 53 | PS: 57)
54. Azura Stevens, Chi, F21 (AS: 55 | EM: 55 | PS: 58)
55. Tiffany Mitchell, Ind, G27 (AS: 58 | EM: 54 | PS: 54)
56. Gabby Williams, Sea, F22 (AS: 60 | EM: 57 | PS: 61)
57. Sami Whitcomb, NY, G28 (AS: 61 | EM: 58 | PS: 74)
58. Riquna Williams, LV, G29 (AS: 51 | EM: 69 | PS: 55)
58. Nia Coffey, Atl, F23 (AS: 59 | EM: 61 | PS: 60)
60. Mercedes Russell, Sea, C8 (AS: 62 | EM: 59 | PS: 64)
61. Angel McCoughtry, Min, F24 (AS: 66 | EM: 56 | PS: 53)
62. Ezi Magbegor, Sea, C9 (AS: 63 | EM: 60 | PS: 71)
63. Brittney Sykes, LA, G30 (AS: 49 | EM: 76 | PS: 63)
64. Julie Allemand, Chi, G31 (AS: 65 | EM: 62 | PS: 70)
65. Rebecca Allen, NY, G32 (AS: 64 | EM: 64 | PS: 59)
66. Amanda Zahui B., LA, C10 (AS: 67 | EM: 63 | PS: 67)
67. Kayla Thornton, Dal, F25 (AS: 57 | EM: 76 | PS: 69)
68. Victoria Vivians, Ind, G33 (AS: 69 | EM: 66 | PS: 73)
69. Bria Hartley, Ind, G34 (AS: 71 | EM: 65 | PS: 68)
70. Aari McDonald, Atl, G35 (AS: 70 | EM: 67 | PS: 72)
71. Danielle Robinson, Ind, G36 (AS: 68 | EM: 76 | PS: 65)
72. Isabelle Harrison, Dal, F26 (AS: 73 | EM: 72 | PS: 77)
73. Emily Engstler, Ind, F27 (AS: 72 | EM: 76 | PS: 80)
74. Bridget Carleton, Min, F28 (AS: 78 | EM: 71 | PS: 89)
75. Natisha Hiedeman, Conn, G37 (AS: 74 | EM: 76 | PS: 82)